Awards & Accreditations
We Earned the Awards. We All Reap the Rewards.
From state-of-the art trauma care to labor and delivery, MarinHealth Medical Center provides the people of our county with a host of services they can't get anywhere else in Marin. We take this responsibility to heart, and are committed to providing the best possible level of care. That means we actively pursue awards and certifications that require rigorous adherence to the highest standards of care, and have been awarded the following:

Gold Seal of Approval™ (2022-2025)
The Joint Commission
MarinHealth Medical Center has earned the Joint Commission's Gold Seal of Approval™ for its Hospital Services, Advanced Inpatient Diabetes Care Program, Stroke Care Program and its Behavioral Health Services. This three-year accreditation is a nationally recognized designation of the hospital's compliance with the Commission's state-of-the-art standards for quality and safety. To earn the designation, MarinHealth Medical Center, its Advanced Inpatient Diabetes Care Program, and its Behavioral Health Services unit underwent rigorous and unannounced onsite surveys. A team of Joint Commission expert surveyors evaluated their compliance with standards of care specific to the needs of patients.

Level III-N Trauma Center Verification (2019-2025)
The American College of Surgeons
As verified by the Verification Review Committee (VRC), an ad hoc committee of the Committee on Trauma (COT) of the American College of Surgeons (ACS), the trauma center at MarinHealth Medical Center has been verified as a Level III-N Trauma Center. This achievement recognizes the trauma center's dedication to providing optimal care for injured patients.
Established by the ACS in 1987, the COT's Consultation/Verification Program for Hospitals promotes the development of trauma centers in which participants provide not only the hospital resources necessary for trauma care, but also the entire spectrum of care to address the needs of all injured patients. This spectrum encompasses the prehospital phase through the rehabilitation process.
Verified trauma centers must meet the essential criteria that ensure trauma care capability and institutional performance, as outlined by ACS. This program provides confirmation that a trauma center has demonstrated its commitment to providing the highest quality trauma care for all injured patients.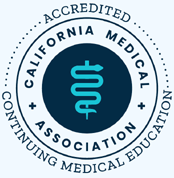 Accreditation for Continuing Medical Education (2020-2024)
California Medical Association
The California Medical Association has awarded a Four Year CME Accreditation to MarinHealth Medical Center for the period February 29, 2020 thru February 29, 2024. Physicians who attend CME courses offered by CMA-accredited providers meet the Medical Board of California's Division of Licensure requirements for physician licensure and the California Medical Association's Certification in Continuing Medical Education.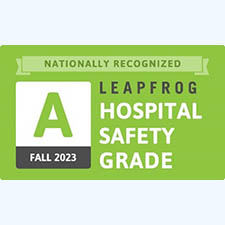 Leapfrog Group: Hospital Safety "A" Grade (Fall 2023)
The Leapfrog Group
MarinHealth Medical Center received an "A" grade from the Leapfrog Group for Fall of 2023, in acknowledgement of our standards for excellence in patient care and our efforts to protect patients and meet the highest hospital safety standards in the U.S. Leapfrog's Hospital Safety Grade rating system uses stringent criteria to assess hospitals' safety and quality of care. Its A, B, C, D, or F letter grades offer a quick, simple way for consumers to choose the safest hospital to seek care. The grade uses more than 30 measures of safety data, including rates of preventable errors, injuries, and infections, while also accounting for whether hospitals have systems in place to protect patients from harm.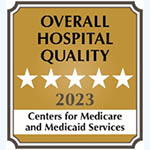 Overall Hospital Quality Ranking: 5 Stars (2023)
The Centers for Medicare & Medicaid Services
We are thrilled to share that MarinHealth Medical Center has been award a 5-star Overall Hospital Quality ranking from the Centers for Medicare & Medicaid Services. CMS assigns star ratings to U.S. hospitals annually based on 46 hospital quality measures. These are divided into five quality categories: safety of care, mortality, patient experience, readmission rates and timely and effective care. Data reporting periods range from July 2018 to March 2022, depending on the measure.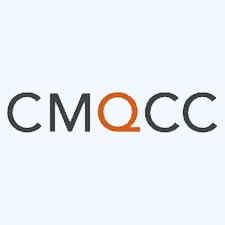 Quality and Sustainability Award (2023)
California Maternal Quality Care Collective
MarinHealth has been recognized by the California Maternal Quality Care Collaborative with a 2023 Quality and Sustainability Award. This award is awarded to hospitals that met and maintained the Healthy People 2020 and Healthy People 2030 target rates for the NTSV Cesarean Birth measure for three consecutive years: 2020 - 2022.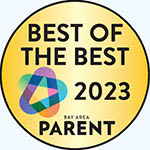 Best Hospital & Birthing Center in San Francisco / Marin County (2022-2023)
Bay Area Parent Magazine
Our thanks go out to readers of Bay Area Parent Magazine for voting for MarinHealth Medical Center in their annual Best of the Best Contest for the second year in a row. We're honored to be honored as "Best Hospital and Best Birthing Center in San Francisco/Marin." But our biggest honor is caring for patients. We are deeply committed to providing exceptional care across every specialty, from diagnosis, to treatment, to rehabilitation. Our new Oak Pavilion provides a safe, healing environment, and our state-of-the-art Emergency & Trauma facilities are second to none.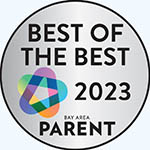 Silver Medal - Pediatric Care (2022-2023)
Bay Area Parent Magazine
We've always known our pediatricians were popular, and now it's been confirmed by the readers of Bay Area Parent Magazine. MarinHealth Pediatricians have been awarded a silver medal in the magazine's Best of the Best contest for the second year in a row. Our pediatric experts provide exceptional care for our littlest patients from birth through adolescence. We even offer specialized care for high-risk pregnancies, and for newborns who need extra care in our Neonatal Intensive Care (NICU.)

3-Year Accreditation (2020 - 2023)
Commission on Cancer of the American College of Surgeons (ACOS)
The MarinHealth Cancer Care Program received a Three-Year Accreditation, the highest level of recognition from the American College of Surgeons' Commission on Cancer (CoC). MarinHealth Medical Center is one of a select group of U.S. accredited cancer programs in the United States to receive this national honor for surveys performed January 1 – June 30, 2020.
Best Local Hospital (2019-2023)
The Pacific Sun
Voted on by the citizens of Marin County, we are honored to have been named the "best local hospital" for 2023 - our fifth consecutive time earning this award!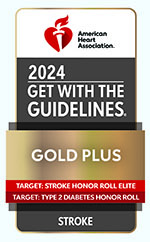 Get With The Guidelines - Stroke Gold Plus Quality Achievement Award (2011 - 2023)
American Heart Association / American Stroke Association
MarinHealth Medical Center received the 2023 American Heart Association/American Stroke Association's Get With The Guidelines®-Stroke Gold Plus Quality Achievement Award for the twelveth year in a row. Also in 2023, MarinHealth Medical Center received honor-role elite status for the treatment of stroke, and honor-role status for Type-2 diabetes related stroke care.
To receive the Get With The Guidelines award, a hospital must achieve 85 percent or higher adherence to all indicators for two or more consecutive 12-month intervals and 75 percent or higher compliance with six of 10 Get With The Guidelines-Stroke Quality Measures. These measures include aggressive use of medications that have been shown to improve patient outcomes, such as tPA, antithrombotics, anticoagulation therapy, DVT prophylaxis, cholesterol reducing drugs and smoking cessation. All are aimed at reducing death and disability and improving the lives of stroke patients.
Healthgrades Awards (2022)
Healthgrades
These awards are based on real data and careful methodology. Every year, Healthgrades analyzes three years of Medicare Provider Analysis and Review (MedPAR) data to produce a detailed report on mortality and complication rates in America's hospitals. Healthgrades analyzed approximately 40 million Medicare-patient records for nearly 4,500 short-term acute care hospitals nationwide, assessing hospital performance for 32 common conditions and procedures. Read more or view the complete list of Healthgrades Awards received by MarinHealth Medical Center.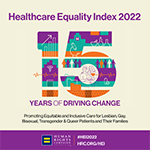 LGBTQ+ Healthcare Equality Top Performer (2022)
Human Rights Campaign
MarinHealth has been a participant of the HEI survey for past decade and was first recognized as a LGBTQ+ Healthcare Equality Leader in 2013. Out of 906 healthcare facilities who actively participated in the 2022 HEI survey, MarinHealth and 250 others earned an "LGBTQ+ Healthcare Equality Top Performer" designation.
CDPH HAI Antimicrobial Stewardship Honor Roll (2020-2022)
California Department of Public Health
As an institution that embodies each of the CDC's Core Elements, MarinHealth Medical Center is proud to be a member of the CDPH Healthcare-Associated Infections Antimicrobial Stewardship Honor Roll. We have been designated Bronze status for a period of two years (November 2020 - November 2022).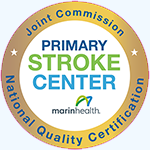 Primary Stroke Center Certification (2020-2022)
The Joint Commission
MarinHealth Medical Center received re-certification in 2022 from the Joint Commission for its stroke program. This program is a voluntary process hospitals apply to, intended to elevate the standard of care for stroke programs and instill confidence in the community served. This certification highlights MarinHealth's commitment to continuous performance improvement, providing high quality patient care and reducing hospital-associated risks.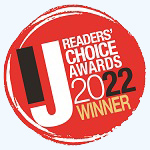 Best Hospital in Marin County (2019-2022)
Marin Independent Journal
We've won many awards for our quality of care, but perhaps the best reward is praise from our patients and their families. We're thrilled to have earned the Marin IJ Reader's Choice honorary award for Best Hospital in 2022 for the fourth year in a row!

Breast Center Accreditation (2019-2022)
The National Accreditation Program for Breast Centers
Our Breast Health Center has outstanding early detection rates and is one of a few Bay Area Breast Health Centers to be accredited by the National Accreditation Program for Breast Centers (NAPBC). The NAPBC is a consortium of national, professional organizations focused on breast health and dedicated to the improvement of quality care and outcomes of patients with diseases of the breast through evidence-based standards and patient and professional education.

Baby Friendly Designation (2017-2022)
World Health Organization
MarinHealth Medical Center is a Baby-Friendly hospital. Sponsored by the United Nations International Children's Fund and the World Health Organization, this initiative recognizes hospitals and birth centers that offer an optimal level of care for infant feeding. We are one of only 414 US hospitals and birth centers (out of over 6000) to hold Baby-Friendly status.

Excellence in Imaging Services Accreditation
The American College of Radiology (ACR)
The ACR has accredited our Imaging Services for imaging excellence, an assurance of quality and radiation safety. We have earned special accreditation for Computed Tomography, Mammography, MRI, and Ultrasound. Our facilities and personnel have gone through a comprehensive review to earn accreditation status by the ACR.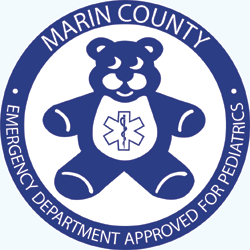 Pediatric Receiving Center - Advanced Level
Marin County Emergency Medical Services Agency
MarinHealth Medical Center has earned the esteemed designation of an Advanced Level Pediatric Receiving Center from Marin County Emergency Medical Services Agency. This designation is the result of a multi-year effort to optimize emergency care to better meet the needs of children and their families in the Marin community.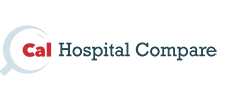 Maternity Care Honor Roll (2021)
California Hospital Compare
California Hospital Compare is a performance reporting initiative designed to help California's healthcare consumers make smarter and more informed choices when selecting a hospital for their care. MarinHealth Medical Center is proud to be one of 124 hospitals out of 208 to earn recognition for meeting or surpassing the statewide target for reducing c-section births in first-time mothers with low-risk pregnancies. Reducing c-section rates starts with the culture of the hospital, requiring collaboration and communication among clinical teams and proactive patient education. To be considered for this honor, hospitals must be included in the California Maternal Quality Care Collaborative (CMQCC)'s Maternal Data Center.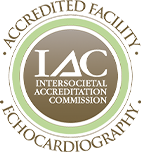 3-Year Echocardiography Accreditation (2018-2021)
Intersocietal Accreditation Commission (IAC)
MarinHealth Medical Center has been granted three-year accreditation in Echocardiography in the areas of Adult Transesophageal, Adult Transthoracic and Adult Stress by the Intersocietal Accreditation Commission (IAC). This accreditation signifies that we have undergone a thorough review of operational and technical components by a panel of experts. The IAC grants accreditation to facilities that provide quality patient care and are in compliance with national Echocardiography standards. IAC accreditation is a "seal of approval" that patients can rely on as an indication that MarinHealth Medical Center has been carefully critiqued on all aspects of operations considered relevant by medical experts in the field of Echocardiography.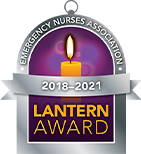 Lantern Award (2018-2021)
Emergency Nurses Association
Our Emergency Department was one of 19 hospitals nationwide to receive the Emergency Nurses Association's 2018 Lantern Award for demonstrating exceptional and innovative performance in leadership, practice, education, advocacy and research. The ENA Lantern Award showcases the MarinHealth Medical Center emergency department's accomplishments in incorporating evidence-based practice and innovation into emergency care. The award also serves as a visible symbol of its commitment to quality, safety and a healthy work environment.
Blue Distinction Center for Maternity Care (2020)
Blue Shield of California
MarinHealth Medical Center is proud to be recognized by Blue Shield of California for meeting the rigorous Blue Distinction Center quality selection criteria for maternity care set by the Blue Shield of California, Blue Distinction Specialty Care program.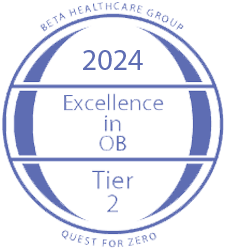 Excellence in OB - Tier 1 & Tier 2 (2014-2020)
Beta Healthcare Group
BETA Healthcare Group (BETA), the largest insurer of hospital professional liability coverage in California, announced today that MarinHealth Medical Center has been awarded for completing all elements of its annual OB Patient Safety Program. To meet the strict requirements established by BETA as a new standard in OB safety, all members of our Medical Center's perinatal team must complete rigorous "online learnings" and utilize common terminology. The annual training portion of the program is part of BETA's Quest for Zero preventable errors initiative.

[415] Top Doctors (2019)
Marin Magazine
More than 200 physicians practicing across 40+ specialties at MarinHealth Medical Center have been named to the prestigious [415] Top Doctors 2019 by Marin Magazine. The list was compiled through peer-to-peer polling of more than 4,000 doctors in San Francisco and Marin counties, who were asked to select the physicians they considered the best of the best. Every doctor in the area was both a candidate and a voter (they were not allowed to vote for themselves, nor were they permitted to vote more than once for any given doctor.) Participants could vote for doctors in all specialties.