Patient-Centric Care
A Hospital that Puts Patients First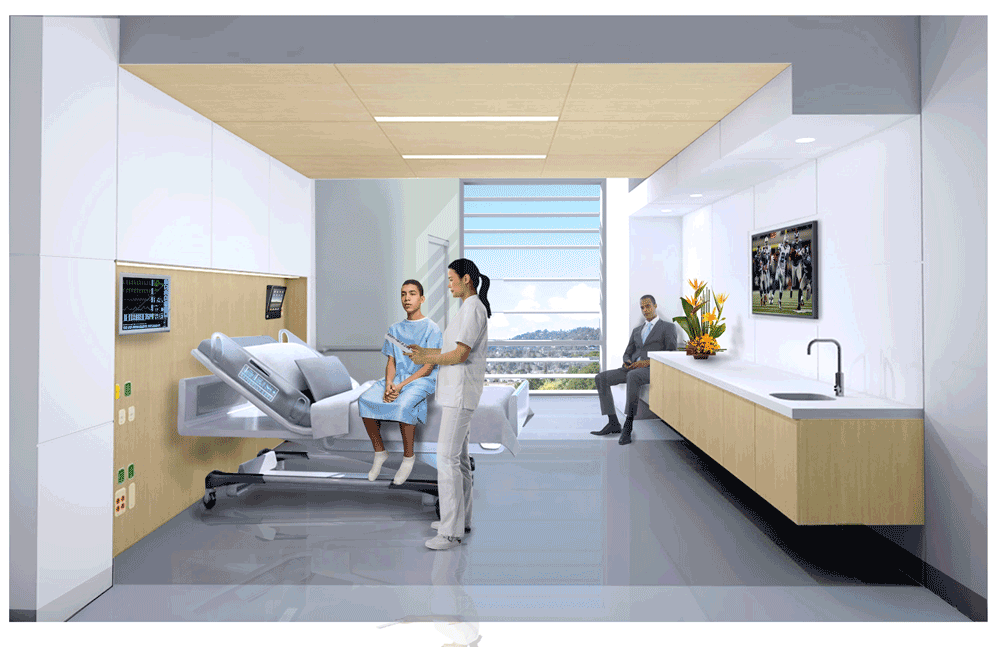 It seems like common sense to say that caring for patients is the essential purpose of a hospital. However, beyond treating a patient's illness or injury, the best care also tends to that person's comfort and emotional wellbeing. The Oak Pavilion transforms the patient experience at MarinHealth through "patient-focused healing," treating the whole person while always respecting their dignity and humanity.
Following best practices in modern hospital design, patient rooms are comprised of three "zones," a patient zone, a family zone, and a staff zone. Dividing up the space this way increases safety and comfort. Staff has enough room to maneuver equipment and a loved one can unfold a cot and stay the night.
Studies have shown that a quiet environment can contribute to the healing process. In the new hospital, modern technologies have virtually eliminated paging over the intercom. All-private rooms further eliminate sound distractions.

(Watch the above video to learn more about our private patient rooms)
Green Spaces
According to the latest research, patients spend less time in the hospital and recover faster when they are in an environment with views of nature. Exposure to sunlight is also scientifically proven to improve patient recovery and overall health. Our new building is designed to maximize access to natural light, with views of nature from every patient room. The building features five rooftop green spaces, a sunken garden, and in-unit terraces so that patients and visitors can get a breath of fresh air. There are also multiple gardens throughout the hospital grounds for the use of our patients, visitors and caregivers.

(Watch the above video to learn more about our garden and terrace spaces)

(Watch the above video to learn more about the rooftop gardens available to maternity patients at MarinHealth Medical Center)