Stroke Care
MarinHealth Medical Center - A Designated Primary Stroke Center
Stroke is an emergency situation in which time lost can mean brain loss. Fortunately for potential stroke victims in Marin, MarinHealth Medical Center is a Designated Primary Stroke Center offering exceptional care, right here. We offer a complete spectrum of care, from prevention and education to timely and effective stroke treatment of ischemic and both types of hemorrhagic stroke (intracerebral and subarachnoid), which means there is no risk of losing precious time transferring patients to another facility.
Download our Stroke Resource Guide or learn more about our virtual Stroke Support Group!
Stroke Prevention
Controlling risk factors for stroke is critical to preventing future strokes. Patients and Healthcare Professionals should monitor their blood pressure, blood sugar and cholesterol levels. Patients should also know how and when to take their prescribed medications.
To limit the possibility of a stroke, the following lifestyle habits should be practiced:
Don't smoke
Limit your alcohol intake
Eat a healthy diet
Engage in regular physical activity
Avoid prolonged sitting or lying down
How can Healthcare Professionals help?
Encourage patients to exercise or join a cardiac rehab program
Evaluate patients in under-resourced communities for gaps in care
Include the patient in the decision making process for treatment and prevention planning
Monitor the patient for an irregular heartbeat
Prescribe the appropriate medications and include detailed instructions
Your Risk of Stroke Increases as You Age
Even those who are in the best of shape can't avoid one inevitable risk: increasing age. Eighty percent of strokes occur after age 50, and stroke risk doubles every decade after age 55. A large percentage of Marin adults are now in the prime risk category. Recognizing when someone is having a stroke, and knowing what to do is critical. The best treatment options take place in a three-hour window from the onset of symptoms. Read, television personality Doug McConnell's story about the importance of acting on the signs and symptoms of a stroke.
Stroke Treatment
We have a dedicated Stroke Team in our Emergency Department, where a Neurologist and Neurosurgeon are on call, 24/7. Stroke treatment is determined based on the type of stroke and the patient's overall health.
Ischemic stroke accounts for 87% of all strokes. It is caused by an obstruction in a blood vessel in the brain.
Hemorrhagic stroke occurs when a weak or malformed blood vessel in the brain, either an aneurysm or an arteriovenous malformation (AVM), ruptures and bleeds. The most common cause of this type of stroke is high blood pressure.
TIA (Transient Ischemic attack), or "mini stroke, is caused by a temporary clot. This is a often a precursor to a more serious stroke.
To acutely treat ischemic stroke, the clot-busting medication Alteplase may be given intravenously in the Emergency Department. Patients who come in with a suspected stroke or transient ischemic attack are immediately evaluated. Testing may include any and all of the following:
Computerized tomography, or CAT scan
CT angiogram, which provides a detailed view of the affected blood vessels in the brain
Cerebral tissue perfusion (CTP)
Magnetic resonance imaging (MRI)
Magnetic resonance angiography (MRA) of the head and neck
A select group of ischemic and hemorrhagic stroke patients may be eligible for advanced neuro-surgical interventions such as mechanical thrombectomy. MarinHealth has the capability to transfer these patients to UCSF Medical Center when the need arises.
Listen as Medical Director, Spine & Brain Program, Ilkcan Cokgor, MD, discusses stroke prevention and treatment. You'll get an overview of MarinHealth's highly respected Stroke Program, and most importantly, an opportunity to learn–and memorize–the symptoms of stroke. The life you save could be your own.
Meet Our Specialists
Our board-certified neurologists and neurosurgeons have received specialized and/or fellowship training in various procedures to treat conditions affecting the brain. Use our Physician Finder to learn more about our exceptional team.
AHA/ASA Support Network
If you or someone you love is recovering from a heart attack, stroke, a chronic condition or congenital heart defect, or is in rehab and recovery, you might want to check out the American Heart Association and American Stroke Association's online support network. Join the conversation, get answers to your questions, and connect with others who have survived and thrived! Learn more.
Awards & Recognition

The Joint Commission awarded us the distinction of Designated Primary Stroke Center. This means that we provide the complete continuum of care, from prevention education to timely and effective stroke treatment to rehabilitation, and have advanced certification as a Primary Stroke Center.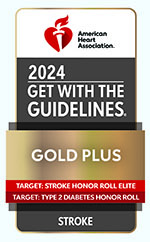 The American Heart Association and American Stroke Association recognize this hospital for achieving 85 percent or higher adherence to all Get With The Guidelines® Stroke Performance Achievement indicators for consecutive 12-month intervals and 75 percent or higher compliance with 6 of 10 Get With the Guidelines® Stroke Quality Measures to improve quality of patient care and outcomes.