Internships
---
Our mission and goal is to exceed the expectations of our community by supporting patients, families, and caregivers to travel well through life with diabetes. Each year, we select a qualified college/graduate student to participate in our internship program by providing non-clinical support and patient experience contributions. This hands-on program provides an opportunity to gain experience in various aspects of evidence-based diabetes education and care. Please click here for the full criteria.
Learn what an internship at the MarinHealth Braden Diabetes Center is like, from one of our recent interns, Emma Towslee!
Internship Spotlight - Emma Towslee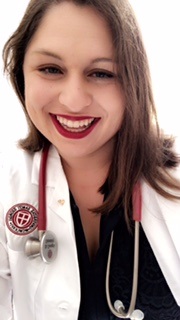 In August 2014, I was starting college as a 17-year old freshman at Sonoma State University and beginning my life as an adult. For months, I had symptoms consisting of frequent urination, increased thirst, extreme fatigue, and extreme weight loss without trying. Eventually, I went in to see my primary care physician and was referred to a former endocrinologist at MarinHealth Braden Diabetes Center, Linda Gaudiani, MD, FACP, FACE, who diagnosed me with type 1 diabetes. Due to the nature of my newly diagnosed disease, I was in constant communication with Dr. Gaudiani. Over time, I revealed to her that I wanted to become a physician myself and asked if I could shadow her in her office. Dr. Gaudiani, came up with a better idea and the MarinHealth Braden Diabetes Center's Student Internship Program was created.
My goals for the internship consisted of learning more about diabetes, but also understanding the dynamics of an office/clinic. When my internship began, I was 18 and had no professional experience. However, I quickly learned the importance of collaboration. Over my three-year student internship I was able to help educate the public on diabetes by working with the Hospital's communications team and building out thoughtful, well-developed Facebook posts. In addition, I partnered with the Juvenile Diabetes Research Foundation by putting together social groups for the pediatric population to promote living well with diabetes and reduce the feelings of isolation due to dealing with a chronic illness.
I am grateful to Dr. Gaudiani and the MarinHealth Braden Diabetes Center. I learned so much about diabetes and was able to become more familiar with office dynamics. This stepping-stone in life has reinforced my original goal of becoming a physician. I am proud to state that I began medical school September 2018 and plan on becoming a pediatric endocrinologist.