Mindful Meditation & Guided Relaxation - Virtual Sessions
---
Mindfulness Meditation and Guided relaxation are powerful tools that help you to manage stress, find inner peace, and improve mental functions. They can also help to cultivate self-awareness, compassion, and empathy. Regular practice can improve both mental and physical health.
We're delighted to be able to share recordings of our virtual meditation and guided relaxation sessions hosted by Corliss Chan, CMT & our Integrative Wellness Team. In each session, you will learn and practice skills to calm the body and mind through guided relaxation techniques and breathing exercises. Each session will focus on a specific area of health and wellness, such as strengthening the immune system, cardiac health, stress reduction, pain management, restful sleep, and deep relaxation. Click on the below videos to view the recordings:
We also encourage you to attend our virtual meditation sessions, offered the first Monday of each month, from 10:00am - 10:45am. These sessions are free for all to attend. Please join the our free virtual meditation sessions, via this link: https://www.mymarinhealth.org/meditation.
Meet Our Practitioner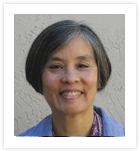 Corliss Chan, CMT, has been inspiring people to actively participate in their own healing and wellness for over 25 years. An engaged and compassionate listener, she has helped patients cope with life and health issues, including cancer, Lyme disease, heart health, diabetes, joint pain, anxiety, and depression. Today, she leads our Guided Imagery, Jin Shin Jyutsu®, Acupressure, and Meditation sessions.