Health Connection - June 2022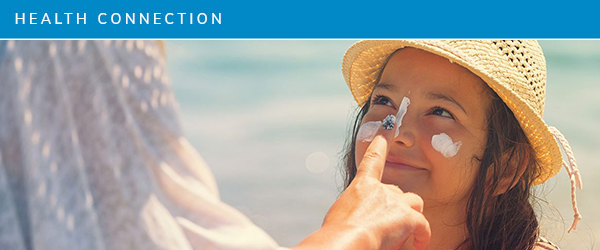 Sun Safety: You've Got It Made In The Shade
When you hear the word carcinogen, the sun may not be the first thing that comes to mind. However, the U.S. Department of Health and Human Services classifies UV radiation as a proven human carcinogen, just like tobacco, radon, and asbestos. UV radiation is the part of the electromagnetic spectrum that reaches the earth in the form of sunlight. Too much UV radiation damages the skin's cellular DNA and can trigger genetic mutations that lead to skin cancer, including basal cell carcinoma, squamous cell carcinoma, and melanoma. The sun produces two types of UV rays:
UVA is the most dangerous wavelength because it penetrates the skin down to the middle layer, causing wrinkles, sunspots, premature aging, and skin cancer.
UVB, a shorter wavelength than UVA, only penetrates the top layer of skin—UVB is responsible for sunburn but has also been linked to skin cancer.
Risk Factors for Skin Cancer
There's no such thing as a healthy tan. Skin tans because it's been damaged by UV rays, which stimulates the production of more melanin, the pigment that colors the skin. While anyone can develop skin cancer, some people have genetic and/or lifestyle risk factors that make them more vulnerable, including:
Pale or light skin color
Personal or family history of skin cancer
Extended exposure to the sun through work and outdoor leisure activities
A history of sunburns, especially before the age of 18
A history of indoor tanning
Skin that burns, freckles, reddens easily, or becomes painful in the sun
Blue or green eyes
Blond or red hair
A large number of moles
A certain type of mole called dysplastic nevi, which are often larger than common moles with irregular borders and pigment variations ranging from pink to dark brown
Could It Be Skin Cancer?
Skin cancer develops primarily on areas of the body that get a lot of sun exposure, including the scalp, face, lips, ears, neck, chest, arms, hands, and legs. It can also form on less sun-exposed areas such as your palms, the soles of your feet and even under your nails, so don't ignore skin changes on parts of your body that don't get a lot of sun. There are three types of skin cancer, and each can present differently:
Basal cell carcinoma usually occurs in sun-exposed areas of the body such as the face, ears, and hands, may appear as a pearly or waxy bump or a flat, flesh-colored, or brown lesion
Squamous cell carcinoma usually occurs on sun-exposed areas of the body and may appear as a firm, red nodule, or a flat lesion with a crusty surface
Melanoma, the most serious type of skin cancer, can develop anywhere on the body, including in areas that are not exposed to the sun. Melanoma signs include:

A large brownish spot with darker spots in it
Changes in the size, color, or shape of an existing mole
Bleeding from an existing mole
A small lesion with an irregular border and different colors such as red, white, blue, or blue-black
Dark lesions on the palms, soles, fingertips, toes, or the mucous membranes of the mouth, nose, vagina, or anus
A yearly skin check with your Primary Care Provider or a dermatologist is an important step to help identify potential skin cancer in its earliest stages – when its most treatable.
Sun Safety Tips
You don't have sit on the beach all day to get sunburned. UV rays get through clouds and haze and reflect off surfaces such as water, cement, sand, or snow. Below are some wise precautions to take if you want to save your skin from sun damage and lower your risk of developing skin cancer:
Avoid indoor tanning, which exposes you to UV radiation
Watch the clock. The hours between 10 am and 4 pm are the most hazardous for UV exposure outdoors in the continental U.S.
Stay in the shade, especially during midday
Go under cover. Wear clothing that covers your arms and legs, UV blocking sunglasses, and a wide-brimmed hat to protect your neck, face, and ears.
Always use sunscreen. The CDC recommends broad spectrum sunscreen (which protects against both UVA and UVB rays) with sun protective factor (SPF) 15 or higher.
View additional sun & heat safety tips for your family, here.
Safe Fun in the Sun for Kids
Outdoor play and physical activity are essential for a child's health and wellbeing. However, it's important to protect your children from the cumulative damage of repeat sunburns. Below are some recommendations from the Academy of Pediatrics:
Babies 6 months and under
Avoid sun exposure as much as possible. Dress your infant in lightweight long pants, a long-sleeved shirt, and a brimmed hat that shades the neck
Apply a minimal amount of sunscreen to small areas, such as the infant's face and the back of the hands, if a limited amount of sun exposure is unavoidable
Older Children
Keep covered. Dress kids in tightly woven cotton clothing, a face-shading hat, and sunglasses.
Have children play in the shade whenever possible, and limit sun exposure during the peak intensity hours between 10 am and 4 pm
Slather on the sunscreen—SPF 15 or higher protects against UVA and UVB rays
Reapply sunscreen every two hours, or after swimming or sweating
Watch out for water, sand and snow­, all of which reflect UV rays and may result in sunburn more quickly
---
Urgent Care: The Doctor Will See You. Now!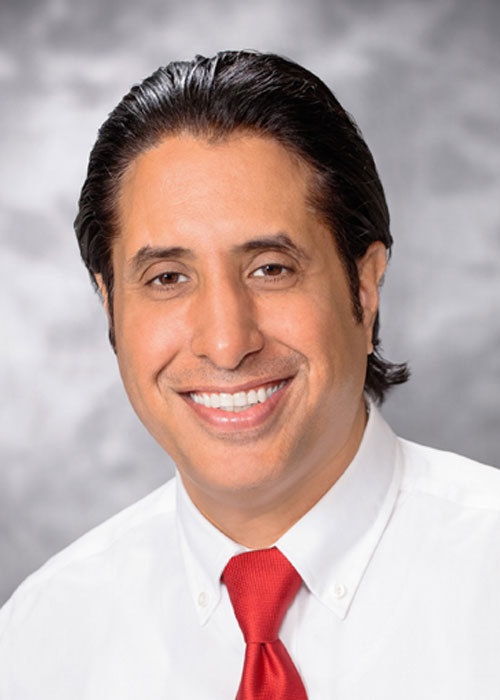 Sprained ankle? Strep throat? Bad shrimp? No worries. The healthcare professionals at our MarinHealth® Urgent Care clinic are here for you—with extended and weekend hours! We treat a wide range of illnesses and injuries that aren't serious enough for the emergency department but still require prompt attention. Urgent care is the ideal solution for those times when your regular doctor just can't get you in soon enough. Expert providers are on hand to handle minor illnesses and injuries, including asthma and allergy attacks, sore throats, rashes, dog bites, minor burns or lacerations, sprains, pink eye, food poisoning, and much more.
Conveniently located in San Rafael, our Urgent Care clinic welcomes walk-ins and can typically offer same-day appointments for those who prefer to call to avoid a wait at the clinic. Our MarinHealth Outpatient Imaging Center is down the hall, allowing for quick diagnosis of fractures and sprains during open hours. Rapid testing is available on site for common conditions such as the flu, strep throat, infectious mononucleosis, and urinary tract infections. We also offer COVID-19 testing. If you have COVID-19 symptoms, please call 1-415-925-8865 to schedule an appointment.
Not sure if it is an emergency or an urgent medical issue? Download a handy tip sheet on when to call an ambulance, go to the emergency room, or visit urgent care.
For years now, MarinHealth and UCSF Health have worked together to provide the North Bay with exceptional primary and specialty care. As part of this collaboration, patients have access to MyChart, UCSF Health's secure online patient portal, where you can easily view medical information and communicate with providers. Our Urgent Care Clinics serve everyone in the community, regardless of whether your regular doctor is a MarinHealth Medical Network physician.
MarinHealth Urgent Care | A UCSF Health Clinic
4000 Civic Center Drive, Suite 206, San Rafael
Call 1-415-925-8865 for an appointment!
Monday – Friday: 10:00 am – 8:00 pm
Saturday and Sunday: 9:00 am – 5:00 pm
---
Palliative Care: Grounded in Compassion
Living with a serious illness is challenging in many ways. Often, people suffer not just physically but emotionally, mentally, and spiritually. Palliative care can help restore quality of life and remedy the pains and stresses that come with serious illness. Palliative care can improve a person's ability cope with illness, helping them and their family make appropriate choices for care and ultimately find more joy in everyday living.
Palliative care is different from hospice care, which focuses on keeping people comfortable as they approach the end of life. Palliative care services are provided during any phase of a patient's illness, even during active treatment such as chemotherapy, and are provided alongside all the care a person gets from their other clinicians. It does not replace any other care, but instead acts as an extra layer of support in addition to the other care a person is receiving. Additionally, the benefits of palliative care extend beyond the patient, and include providing support, guidance, and reassurance to friends, family, and loved ones that the patient is being supported in the most comprehensive way possible.
Who Is Palliative Care for?
Palliative care is appropriate for anyone with a serious illness, including cancer, heart disease, lung disease, kidney failure, advanced liver disease, and neurodegenerative diseases like dementia or Parkinson's disease. The choice to have palliative care is a collaborative decision between the doctor, the patient, and the patient's caregivers and family. People are often referred to palliative care:
At the time of diagnosis of a serious illness
When they are experiencing declining health
When they are having difficulty recovering from a serious illness
When symptoms or medical treatments seriously impact quality of life
When they need help with complex healthcare decisions
When they are undergoing complex medical interventions that require coordinated or ongoing care
What Difference Can Palliative Care Make?
Palliative care specialists work with patients and their families, caregivers, and other medical specialists to help optimize medical care, address symptoms, minimize the side effects of treatment, and ease the challenges of serious illness. A palliative care specialist can:
Arrange for family meetings and patient/family counseling
Provide access to physical, emotional, and spiritual support
Ensure that a patient's plan of care fits the goals and priorities of the patient and family
Help facilitate advance care planning (advance health directives, etc.)
Manage pain and other symptoms, including anxiety, depression, nausea, constipation, insomnia, fatigue, weight loss, and shortness of breath
Connect patients and families to community resources and help them navigate the healthcare system
Provide guidance around difficult and complex treatment choices
At MarinHealth, palliative care is provided by an interdisciplinary team of doctors, social workers, nurse practitioners, nurses, care coordinators, and spiritual counselors who attend to all of their patients' needs and provide expert management of complex physical, emotional, spiritual, and psychosocial needs.
Listen to this short podcast to learn why palliative care is often referred to as "the soul of medicine" and find out how it can benefit a variety of patients and needs.
MarinHealth offers palliative care for inpatients at MarinHealth Medical Center, as well as in the outpatient setting through the MarinHealth Supportive Care Center | A UCSF Health Clinic. Learn more about our Supportive Care services.
If you or a loved one are struggling with serious illness or a complicated recovery, talk to your doctor about the benefits of palliative care or call the MarinHealth Supportive Care Center at 1-415-925-7450.
Joshua Biddle, MD is MarinHealth's Medical Director of Outpatient Palliative Care.
---
Mindfulness Meditation: A Self-Healing Practice
Rising costs. Polarizing politics. Ongoing COVID concerns. Shifting job expectations. Family pressure. With so many stressors to contend with, it's easy to feel anxious, overwhelmed, and even unmoored. No wonder so many are turning to the ancient practice of mindfulness meditation. For centuries, people have relied on this mind/body practice to feel more grounded, calm, and relaxed.
Benefits of Meditation
Mindfulness meditation is a powerful tool for managing stress, find inner peace, and improving mental function. In addition, this practice can help cultivate self-awareness, compassion, and empathy. A growing body of evidence also indicates that meditation has physical as well as mental and emotional benefits. Research has shown the practice can be helpful for a variety of conditions, including:
Chronic pain
Poor sleep
Menopausal symptoms
Anxiety
Irritable Bowel Syndrome (IBS)
High blood pressure
Depression
Post-Traumatic Stress Disorder (PTSD)
Emotional stress due to a serious illness such as cancer
Some studies indicate that over time, meditation actually leads to physical changes in the brain, including thickening in areas of the brain related to attention, learning, cognition, and memory. This thickening appears to be more pronounced in older participants, which suggests that regular meditation may help counter age-related brain atrophy – or cortical thinning – associated with Alzheimer's, Parkinson's, and a host of other diseases.
How Does It Work?
While all types of meditation are designed to center and relax you, the practice is not one-size-fits-all. You may want to try several different types of meditation to find the method that best suits you. In mindfulness meditation, a secular practice that originates from Buddhist teachings, you sit or lie quietly, eyes closed, focusing on your breath and paying attention to any thoughts, feelings or sensations as they arise, without judgment.
With guided imagery or visualization, another form of meditation, you can engage the power of your imagination to heal, rest with relaxing images, or see yourself the way you'd like to be. This practice is frequently used by athletes working to achieve goals, and can also be useful for children coping with anxiety.
Mindfulness can also help you experience and enhance the mind-body connection. For example, body scan meditation starts with lying on your back and closing your eyes. You bring your attention to one part of the body at a time, relaxing each muscle group to help release tension.
And if sitting or lying still isn't appealing, there are also mindful movement options. Yoga is a classic form of movement meditation but there are other gentle forms of movement that can achieve the same effect, from Qigong to a quiet walk in the woods.
Though seemingly simple, meditation can be quite challenging, especially at first. Often, new meditators give up easily after becoming frustrated by the chatter of their thoughts and their inability to focus. It's important to be gentle with yourself. Just as muscles need time to become stronger, the mind needs time to become calmer and more focused. If you stick with it, the practice will most likely get easier. And even if you don't enjoy the time spent meditating, you are still reaping the benefits.
There's no time like the present to start meditating. We could all use a little more peace and relaxation in our lives. At MarinHealth, our Integrative Wellness Center offers free, virtual meditation classes. In each weekly session, you will learn and practice skills to calm the body and mind through guided relaxation techniques and breathing exercises. Hosted by Corliss Chan, CMT, each class covers a specific topic, such as strengthening the immune system, stress reduction, pain management, or restful sleep. During a given guided session, you may:
Experience conscious awareness using your breath to relax
Form mental images of relaxing places and situations using guided relaxation
Explore acceptance of living in the present with life as it is without judgment
Enhance your capacity to cope with life's challenges on a moment-to-moment basis
Build community and reduce isolation through connection with other attendees
We also offer recordings of our virtual meditation sessions and a selection of mindfulness podcasts to guide you through a relaxing practice, so you can access these tools anytime that's convenient for you. Whether you have just five minutes to spare or can benefit from 30 minutes of self-care, you'll find an option to help you relax – and start healing – today.