Health Connection - June 2020
Author: Ellen Doxey & Daniel Sadowski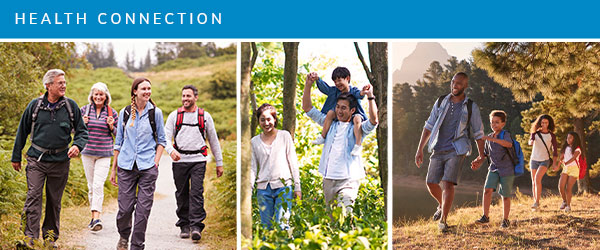 When Anxiety Gets in the Way of Daily Living
By Jenny Bates, LCSW
These days, stress can really put us to the test. Even before COVID-19, many of us were already worried about family, bills, health issues, and work—or lack of work. All of that plus current events can cause stress that can lead to ongoing problems with anxiety and even impact our ability to function.
Everybody experiences anxiety in their own way, but people who are suffering from it will have at least a few of the following symptoms:
Excessive worrying
Sleep disturbance
Restlessness
Irritability
Easily fatigued
Trouble concentrating or mind going blank
Muscle tension
Who is most at risk for anxiety?
While anybody can become overwhelmed by stress at times, people living with an existing anxiety condition may notice worsened symptoms during this global pandemic. These individuals will be at a greater risk for the kind of debilitating anxiety that makes it a challenge to accomplish the tasks of daily living. You will see these individuals spending excessive amount of time imagining worst case scenarios or unable to stop seeking out information on COVID-19.
How can you manage the symptoms of anxiety?
If you are able to meet your daily responsibilities, and you feel like you can address your anxiety without professional help. Here are a few tips:
Set a routine. Structure provides stability in uncertain times because it focuses you on what you CAN control. Try to get up, go to bed, and eat at the same time every day.
Let go of tension. Try mindful meditation. Do yoga. Listen to music, garden, or take a nature walk.
Identify alternatives to your fears. For example, instead of worrying about how you might get COVID-19, think about how you likely won't because you are taking every possible precaution.
Try not to consume more than an hour of news a day. Instead, watch something funny or heartwarming.
Exercise to increase endorphins and elevate your mood.
Stay in touch with the people you love. Call, text or connect via Zoom or Facetime.
Create a space for sleep
Watch your alcohol intake. If you think you might be drinking too much, consider a support group or talk to your doctor.
If you feel overwhelmed by anxiety and are having trouble accomplishing the tasks of daily living, call your doctor or a mental health professional.
When Professional Help Is Needed
Like all emotions, anxiety can be healthy and we are all prone to feeling it sometimes. To differentiate between healthy and unhealthy anxiety, ask yourself: is this manageable? Does anxiety keep you from sleeping, working, running errands, or taking part in social interactions?
Extreme anxiety can be debilitating and might even include panic attacks that include tightness in your chest, rapid heartbeat, sweating and shaking. If you see any of these symptoms it might be time to reach out for help. If you're worried about a loved one, talk to them. Check in frequently. Tell them you are concerned. This does not mean you should act like their therapist—support them in their efforts to find help.
MarinHealth Medical Center offers a full continuum of care and resources to help people cope with anxiety, depending on what level of treatment is needed.
The hospital-based outpatient program, staffed by psychiatrists and licensed clinical social workers, is offering telehealth consultations and treatment for patients in distress. To get an idea of what kind of help is available, call the MarinHealth Intensive Outpatient Behavioral Health Program at 1-415-925-7681. You can connect with a clinical social worker who can point you in the right direction. Learn more about other behavioral healthcare treatment offered at MarinHealth Medical Center.
Jenny Bates is a Licensed Clinical Social Worker and the manager of Outpatient Behavioral Health at MarinHealth Medical Center. Jenny was also featured in one of our recent Healing Podcasts: Staying Mentally and Emotionally Healthy During the COVID-19 Pandemic.
---
Telehealth: Video Visits, Personalized Care
You're likely doing all you can to avoid exposure to the COVID-19 virus but that doesn't mean you won't develop other health issues. You could still get a tick bite, stomach virus, or other ailment that requires seeing a doctor. MarinHealth has implemented rigorous safety precautions and we want to assure you that it is safe to visit MarinHealth Medical Center or your MarinHealth Medical Network provider should you need to.
MarinHealth Medical Network patients can also receive care from home through our telehealth video visit platform that allows you to see your doctor remotely via smartphone, tablet, or a computer.
If you've never used telehealth before, you likely have some questions. We hope this Q&A will provide you with the answers you're looking for. Once you experience the convenience of video visits, you may even want to keep using it long after the pandemic is over.
How do I get set up for a telehealth visit?
Your doctor's office staff will work with you to determine whether you can be seen through telehealth or need an in-person visit and they will schedule your appointment.
How do I connect to my telehealth appointment?
Our default telehealth platform is Zoom, which is available online free of charge. Patients use their smartphones, tablets, desktop or laptop computers to connect. View instructions for setting up a telehealth appointment on your smartphone or tablet here, or view instructions for setting up a telehealth appointment on your computer here.
What about my security and privacy? Is "Zoom bombing" a concern?
MarinHealth uses a special version of Zoom developed by UCSF Health specifically for medical use. Your conversations with your doctor are specially encrypted so the network is secure.
What should I expect from my video visit?
Before your appointment, your doctor's Medical Assistant will give you a call. They will ask about your health history and what medications you are taking. If you have a thermometer and a blood pressure cuff at home, they may want you to take your temperature and blood pressure. The goal is for you and the doctor to be as prepared as possible when you interact in the "Zoom room."
Is telehealth available across various medical specialties?
MarinHealth Medical Network providers – including primary care doctors and specialists – are all set up to offer video visits.
In addition, these MarinHealth locations are also offering video visits. Call directly for more information:
Can telehealth always substitute for an in-person appointment?
No. Certain health issues require a face-to-face visit. The doctor may need to palpate your neck or abdomen, or listen to your heart and lungs. That's why you should start by explaining your health concern to the front office so they can advise you as to whether an in-person visit is necessary.
Will my insurance cover a telehealth visit?
It's very likely that your appointment will be covered. Medicare in particular has been great about covering virtual doctor visits. Other insurers are following suit. Some insurance companies have even begun covering telephone visits for patients who lack access to a computer, tablet, or smartphone. Call your insurance provider in advance to confirm whether your plan covers telehealth visits.
To learn more about telehealth, listen to this Healing Podcast episode.
---
Despite Pandemic, Cardiometabolic Diseases Should Remain Top-Of-Mind for Women
By Anita D. Szady, MD, FACC & Linda Gaudiani, MD, FACE, FACP
Given the immense media attention currently focused on Coronavirus, other health issues may not be getting the attention they deserve. One such issue affecting women is the combined risk of heart disease and diabetes, or cardiometabolic disease.
Once considered a disease that affects mainly men, heart disease is actually the leading cause of death for women in the United States. The stunning facts about heart disease and diabetes are well known after many years of study, yet this data remains largely underappreciated. The Centers for Disease Control and Prevention (CDC) report that only about half of women (56%) are aware that heart disease is their number one killer.
This is dangerous because unlike COVID-19, prevention and treatment strategies for cardiometabolic disease are well known and within every woman's reach.
Overlooked information regarding cardiometabolic risk in women includes:
In 2017, 299,578 women in the United States died from heart disease. This is 1 in 5 women!
In 2017, heart disease accounted for 21.8% of all deaths in women, while cancer accounted for 20.8%.
Seven times more women die from heart disease vs breast cancer annually. 268,600 women in the U.S. were diagnosed with breast cancer in 2019, and 41,760 died from breast cancer, while 299,578 died from heart disease. (AHA: goredforwomen.org; 2019).
Between 2013-2016, 44.7% of females age 20 and older had some form of cardiovascular disease.
Heart disease presents in all ages and includes hypertension, heart attack, stroke, coronary artery disease, peripheral artery disease, and aneurysms. Less known risk factors for heart disease include preeclampsia and gestational diabetes.
We have heard them before, but the leading risk factors for heart disease in women are worth another review: hypertension, smoking, high cholesterol, family history, obesity, physical inactivity, stress, and diabetes.
Another underappreciated fact is that pre-diabetes and diabetes now affect nearly half of U.S. adults and as many as a quarter of U.S. children and adolescents! This last risk factor is especially important because it suggests that metabolic disease is not getting better; it's getting more prevalent and more serious at younger and younger ages.

Perhaps related to women's hormonal fluctuations throughout their lives, their complex societal roles, the dynamics of their reproductive lives and the huge hormonal changes after menopause, women have just as much diabetes as men. Diabetes is closely related to obesity and overweight conditions, inactivity, and stress—all of which may uniquely affect women during the course of their lives.

Researchers are now focusing on cardiometabolic disease in women for good reason:
Cardiometabolic disease and its complications currently account for more than 50% of deaths in women.
Diabetes is considered a "coronary artery disease risk equivalent," meaning that having diabetes is an equal risk factor as having already suffered a heart attack!
Adults with diabetes are 2-4 times more likely to die from heart disease than adults without diabetes.
At least 68% of people age 65 or older with diabetes die from some form of heart disease; 16% die of stroke.
More than half of patients in Coronary Care Units have diabetes or stress related high blood sugar conditions.
Prediabetes can be reversed with intensive lifetime modifications and diabetes can be prevented.
So how can women address the risks of developing cardiometabolic diseases? The good news is that women can prevent much of this disease burden by modifying key factors such as:
Controlling high blood pressure and high cholesterol
Preventing/controlling diabetes through intensive lifestyle improvements, monitoring, education, and possibly medications
Recognizing metabolic syndrome (a combination of high blood pressure, low HLD levels, high triglyceride levels, high blood sugar levels, large waist circumference/central obesity, and sometimes gout)
Weight management and regular exercise
Stopping smoking
Eating a healthy diet, moderate in calories, salt and cholesterol/saturated fats
Stress reduction
Clearly our risks for being affected by cardiometabolic diseases should not be ignored. We invite you to learn more about women and heart disease during this time of reduced social activity, and to assess your particular risks and the preventive measures you can take. Start now by watching this video of the presentation we gave earlier this year at Marin Healthcare District's Community Forum on Heart Disease and Cardiometabolic Health in Women. Click here to watch the entire presentation.
Anita D. Szady, MD,FACC, is a cardiologist at MarinHealth Cardiology
Linda Gaudiani, MD, FACE, FACP, is an endocrinologist at Marin Endocrine and Diabetes Center and Medical Director at MarinHealth Braden Diabetes Center
---
Good Times in Tough Times: Family Fun During a Pandemic
Festivals and county fairs have been cancelled. Ball games are postponed. Many amusement, national, and state parks remain closed or restricted. It may feel like family fun is taking the summer off, but it doesn't have to be that way.
We've put together a list of fun activities to keep your kids of all ages busy and help you make wonderful family memories. Not every suggestion will be right for every child, and that's okay: children also thrive on the individual attention they get from one-on-one time with a parent. Do an art project with your artistic child. Play catch with your young athlete. Read a story to your little bookworm. And try some of these suggestions for wholesome family fun:
Crafty and Creative
Give kids a box of chalk to decorate the sidewalk. This has become a popular activity – and one that kids and passersby will really enjoy.
Draw some pictures and make some cards to send to grandparents, essential workers, hospital workers, people in long-term care facilities, and emergency responders.
Have a family Lego challenge. Assign everyone the same project, such as building a Lego robot. Or look for online tutorials on building sophisticated Lego creations that you can conquer together.
Tie-dye some plain white T-shirts – one for everybody in the family. It might make the perfect picture for your holiday card.
Painting Kindness Rocks is another idea that's both fun and helps kid connect and feel like they helping other people. Get your neighbors involved and see it really take off.
Sneak in a little science lesson and help your kids make some non-toxic slime.
Exploration and Life Skills
Help your kids learn the basics of gardening. Let them plant their favorite vegetables or flowers in a small patch or garden box, and take responsibility for nurturing it all summer long.
Keep their learning skills sharp with a free or low-cost coding class. You'll be surprised at how quickly they pick up some impressive abilities.
No matter what their age, kids love stars. Find a dark area on a clear night and teach them how to find popular constellations.
Camp in the backyard. Set up a tent and grab some flashlights and sleeping bags. Teach them some basic camping skills, such as tying a few notes or navigating by a compass. If you have a fire pit or grill, make s'mores. If you're up for a bigger adventure and don't mind roughing it, consider an actual "quarantine" camping trip.
Learn about an art masterpiece or two, and then see it in a famous museum with a virtual museum tour.
Help your kids understand their family tree with some fun and easy family history activities. You might learn a few surprising facts about your ancestors in the process!
Organize a summer research project. Ask your child to suggest a topic (dinosaurs, ballet, outer space, etc.). Get some books, watch documentaries and visit interesting websites on the topic. Ask your kids to make posters and do a presentation for the family.
Make Your Own Family Holiday
Celebrate the 4th of July, family style. Make red, white, and blue cupcakes. Spray paint stars on the lawn and organize a neighborhood parade with decorated bikes, wagons, cars, or even fun costumes. Just make sure you maintain proper social distancing.
Celebrate your favorite holiday in July – why wait? Make traditional dishes, watch holiday movies, and open up a few inexpensive or homemade gifts.
---
Celebrating Juneteenth: A Historic Day for Freedom
Juneteenth may not yet be a national holiday, but the 19th of June marks a major milestone in American history—the day in 1865 when the last American slaves were freed.
Because the 1863 Emancipation Proclamation only applied to states that had seceded from the United States, slavery continued after that date in border states and southern states under northern control. Even after the Union army officially won the Civil war in 1865, emancipation had to be enforced through the use of the military. Texas was the last holdout and 250,000 people were still enslaved there the day Union troops, led by Major General Gordon Granger, marched into Galveston.

Granger made history when he delivered General Order No. 3, stating:

"The people of Texas are informed that, in accordance with a proclamation from the Executive of the United States, all slaves are free. This involves an absolute equality of personal rights and rights of property between former masters and slaves, and the connection heretofore existing between them becomes that between employer and hired labor."

Slavery was legally and officially ended with the ratification of the 13th Amendment, on December 6, 1865.

Today, Juneteenth is observed as an official state holiday in 47 states and Washington D.C. In 2018, the U.S. Senate passed a bill designating June 19 as "Juneteenth Independence Day." Many celebrate with family and community gatherings, from barbecues and parades to concerts, rodeos, educational workshops, and award ceremonies.

MarinHealth continues to stand in solidarity with the many Americans fighting to end systemic racism across our country. This year we honor Juneteenth and recognize that black lives matter, then and now. We invite you to celebrate the significance, importance and joyfulness of this day.
While many previously organized events have been cancelled due to COVID-19, others have organized virtual events. Below are a few virtual Juneteenth events in the Bay Area that may interest you:
Juneteenth Theater Justice Project
Virtual, Friday, June 19, 7 pm
A collaboration of 28 Bay Area theater companies will hold a live reading of the new Vincent Terrell Durham play "Polar Bears, Black Boys & Prairie Fringed Orchids" via Zoom. Admission is FREE and advance registration is required.
Happy Juneteenth to all!