Health Connection - January 2020
Author: Ellen Doxey & Daniel Sadowski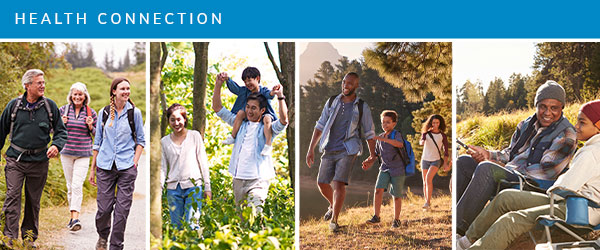 Eight to Eat: Foods to Add in 2020
We all have our go-to healthy foods like oatmeal, salmon, or broccoli. But it's easy to get bored of the same-old-same-old. To help you mix it up a little, we've compiled a list of easy to find, nutritional foods to add to your 2020 grocery lists:
Avocados. They're not just for toast and guacamole. The thick-skinned green fruit has been shown to lower heart disease risk, and improve blood levels of "good" LDL cholesterol. Avocados contain phytosterols, a group of fats shown to provide anti-inflammatory benefits for the entire body, and a healthy dose of fiber. Stuff a half avocado with shrimp or tuna salad or try them as a garnish in black bean soup.
Lentils. These fiber-filled legumes pack a powerful nutritional punch. Lentils help lower cholesterol and keep blood sugar from rising after a meal. They contain significant amounts of magnesium, folate, and vitamin B6, all of which promote heart health. Lentils are also rich in iron, copper, and molybdenum, a substance that helps the body eliminate toxins. A perfect winter comfort food in a soup or stew, lentils are also delicious cold in Mediterranean style salads.
Delicata Squash. If you love the taste of butternut squash but hate the hassle of peeling it, delicata squash is for you. In addition to being fiber rich, this winter squash is a good source of potassium, magnesium, manganese, and vitamins C and B. Try it as a side, or enjoy it as a main dish stuffed with faro or quinoa, nuts, and ground beef, lamb, or shredded cheese.
Watercress. Low-calorie watercress is rich in calcium and vitamins A, C, and bone-strengthening vitamin K. The high carotenoid content of watercress helps reduce the risk of macular degeneration and cataracts. Watercress is also high in antioxidants and phytochemicals, both of which help protect against cancer and heart disease. Try watercress in salads, as a garnish in sandwiches, or ground into a dense, rich pesto.
Green peas. There's a reason mom told you to eat your peas: they're incredibly good for you. Peas contain health-protective phytonutrients that may help protect against stomach cancer. They are a source of both omega 3 and omega 6 fatty acids and are rich in beta-carotene, vitamin K, and all the B vitamins. Peas have a low glycemic index and contain antioxidants and anti-inflammatory nutrients that help keep blood sugar from spiking. They are delicious tossed in a salad or as a side dish with sautéed mushrooms.
Pomegranate. Fiber, protein, color, and an abundance of vitamins, minerals, and antioxidants – pomegranates have it all! In addition to vitamins C and K, folate, and potassium, they contain powerful antioxidants called punicalagins. Pomegranates are being studied for a variety of health benefits including lowering inflammation and blood pressure, reducing the risk of prostate and breast cancer, and even improving memory! Toss the jewel-like seeds in a salad of greens or grains or reduce the juice to make a delicious glaze for roast chicken.
Peanuts. Peanuts get a bad rap thanks to the serious and life-threatening allergies that affect some people. But for those without allergy concerns, peanuts are rich in heart-healthy monounsaturated fats, and packed with vitamin E, niacin, folate, protein, and manganese. They also contain resveratrol, a heart-healthy antioxidant that promotes blood flow to the brain and reduces the risk of stroke. Peanuts make a great snack and are tasty tossed into salads or stir-fries.
Black Beans. Just one-cup of black beans provides 15 grams of fiber and more than 15 grams of protein. A large portion of the starch in black beans is "resistant starch" which passes through the upper digestive system without breaking down. As a result, the starch is not converted into simple sugars, keeping your insulin response low. Black beans contain healthful amounts of zinc, copper, and phosphorous, as well as phytonutrients that help reduce the amount of cholesterol in the blood. Enjoy black beans in a classic black bean soup, in a tasty cold side salad, or spiced and stuffed in a baked potato.
---
A Prescription for Medication Safety
Whether you're on daily medication for a chronic condition or you just need the occasional aspirin, it's essential to take – and store – your medication safely.
Storing Your Medicine Safely
When you pick up a new prescription, take the time to ask your pharmacist for storage instructions. Keep all medication in its original, labeled container and store it in a place where it will not be exposed to heat, light, or moisture, all of which could cause the medicine to deteriorate. If your medication must be stored in the refrigerator, keep it separated from food. Painkillers, anxiety medications, stimulants, and other medications labeled as "controlled substances" should be kept in a locked cabinet, safe or container. Keep your medications out of sight from children, family members, and visitors. Each year, some 60,000 children are accidentally poisoned by an adult's prescription medication. In addition, more than half of the people who abuse prescription medications obtain them from friends or family. Your prescription medications have been prescribed for you and you only. Allowing others to use your medications is both dangerous and illegal.
Disposing of Unused Medication
It's not a good idea to save leftover medications. When it's time to dispose of a medication, keep it in its original container, cross out the patient name on the label, and place the container in a sealed plastic bag. Please don't throw medication in the trash or flush it down the drain. Medications contaminate our lakes and streams, harm wildlife, and end up in our drinking water. Marin County participates in Med-ProjectTM to provide a safe and secure method for disposing of expired or unused medications. Find a convenient location here.
Protecting Yourself from Dangerous Drug Interactions
When you are prescribed a new medication, make sure to read the Patient Prescription Information so you can be on the lookout for possible side effects or reactions. More than 80% of American adults take at least one medication daily, and 29% take five or more. Where people get into trouble is when they see several doctors who don't necessarily know what drugs their patient is already taking. This can lead to over-medication and/or dangerous drug interactions. To avoid this, bring a complete list of ALL the medications you regularly take, including over the counter products and supplements, to all of your doctors' appointments and provide contact information for all your specialists. Keeping all your doctors within one medical network, such as the MarinHealth Medical Network, also helps ensure cooperation and communication between physicians.
---
Sophisticated Emergency Care for Brain and Spinal Cord Injuries, Right Here in Marin
Every year, the MarinHealth Medical Center Emergency Department sees several hundred patients with traumatic brain injuries. While the best treatment is often letting people heal naturally, 10-15% of brain-injured patients require surgery to stop life threatening bleeding and pressure in the brain. Similarly, spinal fractures are a common occurrence and can be associated with injury to the spinal cord. MarinHealth Medical Center is the only hospital in the county that has the neurosurgeons, staff and equipment to treat these serious injuries.
Nine years ago, MarinHealth Medical Center (then Marin General Hospital) entered into a special agreement with the UCSF department of neurosurgery to bring full time school of medicine faculty neurosurgeons to Marin. The goal: provide cutting edge spine and brain surgical care right here in Marin. UCSF Neurosurgery, consistently ranked amongst the top five programs in the country, has dedicated three full time faculty to MarinHealth Medical Center. These experts apply UCSF's rigorous protocols and standard of care to the procedures they perform here in Marin.
The Emergency Department sees its share of bicycle and car accident victims, but the majority of the North Bay's traumatic brain and spine injuries occur in elderly people who have suffered ground level falls. These types of injuries can cause life threatening and/or severely disabling damage to the brain that may require emergency surgery. For example, if the brain starts to swell, surgeons may also have to temporarily remove a portion of the patient's skull to give the brain room to expand and prevent further damage. This bone is later replaced once the swelling has receded and the patient can safely undergo another operation. Similarly, patients with spinal cord injuries require emergent surgery to take the pressure off of the spinal cord and perform a fusion to restore the stability to the fractured spine.
As with stroke patients, "time is brain" for those sustaining traumatic brain injuries. These patients need to be evaluated and operated on as quickly as possible to preserve brain function. A neurosurgeon is on call and readily available 24 hours a day, 365 days a year to provide emergent, expert care. Similarly, the MarinHealth Medical Center spine and brain operating room personnel, intensive care team and diagnostic imaging facilities are available day or night to support the neurosurgeon in providing the very best care. Modern technology, such as a neuro-navigation computer system, is also here at MarinHealth Medical Center to assist surgeons in providing the most precise, minimally invasive approaches to surgery of the brain and spine. Whether a patient is having emergency or elective spine or brain surgery, they can count on UCSF Neurosurgeons, in conjunction with MarinHealth Medical Center, to provide state of the art care.
Currently, the neurosurgery team at MarinHealth Medical Center performs almost every procedure right here in Marin. A small number of cases may require additional technology or expertise. In cases like these, surgery can be performed at UCSF by your Marin based neurosurgeon to ensure continuity of care.
MarinHealth is committed to building on our neurosurgery program, growing its capabilities, acquiring emerging technologies and participating in promising clinical trials. Medicine is an ever-changing science and we are determined to keep up and keep providing cutting-edge care right here in the North Bay.
Dr. Arora is a neurosurgeon with USCF Medical Group who practices at MarinHealth Medical Center, and is certified by the American Board of Neurological Surgery.
---
North Bay Healing Places – The MarinHealth Medical Network
Marin County is home to great natural beauty and a health-conscious community with an active lifestyle. Not surprisingly, the annual health rankings for the state of California have once again listed Marin County as the healthiest county in the state. MarinHealth is working hard to spread that health and wellness throughout Marin and the North Bay. To this end, our MarinHealth Medical Network has more than 150 excellent providers, including both primary care physicians and specialists in all the major fields of medicine, seeing patients in convenient locations all across the North Bay.
Our MarinHealth Medical Network practices are part of UCSF Health, and are seamlessly connected so that your specialists and primary care physician can all collaborate on your care. We offer free access to MyChart, a secure, confidential patient portal where you can access your medical information online. MyChart uses secure technology, enabling you to message your provider confidentially. And our services are backed by the expertise of your trusted community hospital, MarinHealth Medical Center.
Learn more about the MarinHealth Medical Network or find a physician or other care provider from our extensive team of experts.