Health Connection - November 2019
Author: Ellen Doxey & Daniel Sadowski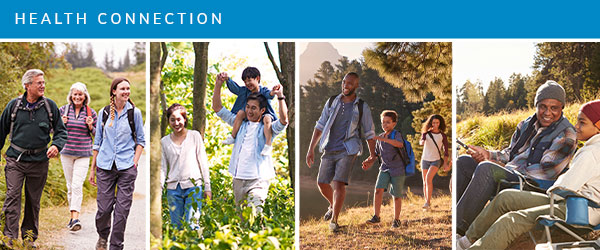 It's Open Enrollment. Are You Open to New Possibilities?
Open Enrollment is the perfect time to take a good look at your health plan and ask yourself some important questions:
Am I satisfied with my health plan?
Am I happy with my primary care physician (PCP)?
Am I happy with my specialists?
Open Enrollment dates are different depending on whether or not you have Medicare:
If you have Medicare, Open Enrollment runs from Oct. 15 to Dec. 1
If you have a commercial plan, whether through your workplace or on your own, Open Enrollment runs from Nov. 1 to Dec. 15
Be sure to make any necessary changes before the deadline. Otherwise, you will only be able to make changes if you have a qualifying life event, such as a new baby or change in marital status.
Open Enrollment is the perfect time to review your physicians or select new ones that meet your needs – both specialists and primary care doctors. No matter your age or health, it's important to have a primary care physician (PCP) who can manage your general health and wellness needs, and coordinate with specialists when necessary. Selecting a primary care doctor is one of the most important healthcare decisions you can make, so be sure you have all of the information you need to choose the one that's right for you. For tips on finding the right doctor, listen to Your Health, Your Choice: What to Consider When Choosing a Physician from MarinHealth's The Healing Podcast series.
Ready to select a new physician? We can help:
---
Are Dietary Lectins Harming Your Health?
By Pamela Riggs, MS, RDN, CSOWM
Cited as a major cause of obesity, chronic inflammation, and autoimmune disease, lectins have recently received much attention in the popular media and fad diet books like The Plant Paradox by Dr. Steven Gundry. So what are lectins and is there any truth to these claims about being harmful to your health?
Lectins are considered an "anti-nutrient", a naturally-occurring substance found in plant-derived foods that interferes with absorption or proper functioning of nutrients in the body. Lectins are found in all plants but are found in higher amounts in raw, uncooked legumes (beans, lentils, peas, soybeans, and peanuts) and whole grains, like wheat. When consumed in their active state (raw, not cooked) they can cause negative side effects. The most common accounts of severe reactions (nausea, vomiting, diarrhea, gas and bloating) have been linked to consumption of uncooked kidney beans.
Health concerns about lectins comes mostly from animal and cell studies, where lectins have been found to interfere with the absorption of minerals like calcium, iron, phosphorus, and zinc. Lectins also bind to the cells' lining the digestive tract, which may in turn disrupt the digestion and absorption of nutrients, negatively impact the gut microflora which in turn may contribute to a leaking gut and inflammation.
However, the truth is, there is very little human research quantifying the amount of active lectins we consume and whether or not they have negative long-term effects on our health. In fact, studies have shown lectins to have beneficial effects, like antioxidant activity, protecting cells from oxidative damage and helping to slow carbohydrate digestion which may prevent sharp rises in blood sugar and insulin levels, a concern for those worried about diabetes. Lectins have also been studied for their anti-cancer effects because of their ability to promote cancer cell death. Consumption of lectin containing foods like legumes, whole grains and nuts are associated with weight loss and lower rates of cardiovascular disease and type 2 diabetes. These foods are also a rich source of B vitamins, protein, fiber, minerals and healthy fats.
It's important to remember that eating foods with a high amount of active lectins is rare. That's because we don't typically eat lectin-containing foods raw. Cooking beans and other legumes, especially by boiling, stewing or soaking in water for several hours can inactive most lectins. Canned beans that are already cooked and packaged in liquid are also low in active lectins. Other processes like sprouting grains and beans can also deactivate these compounds. Thus, for now it appears the health benefits of consuming these foods outweighs any potential harm.
Pamela Riggs is a Registered Dietitian Nutritionist focusing on weight management, cancer and heart disease prevention and treatment, women's health issues, and integrative nutrition practices at the MarinHealth Integrative Wellness Center.
---
Picturing Prostate Cancer: The Importance of Imaging
By Ari Kane, MDand R. James Yu, MD
A man may look like the picture of health, but diagnostic imaging of his prostate could tell a very different story. That's why state-of-the-art imaging is an essential part of the diagnosis and treatment of prostate cancer. This year alone, an estimated 174,650 U.S. men will be diagnosed with prostate cancer, the second most common cancer for men in the U.S. after skin cancer.
The Prostate Cancer Foundation recommends routine screenings for all men starting at age 50, or earlier if there is a family history of the disease. As part of a regular checkup after the age of 50, a man will be tested for prostate cancer using a digital rectal exam and a blood test called the PSA test. This test measures the amount of prostate specific antigen (PSA) in the blood. PSA levels are usually elevated in men with prostate cancer.
In a typical scenario, elevated PSA levels will lead to additional testing, including a prostate MRI. This initial round of imaging is used to find areas suspicious for prostate cancer. If there are suspicious areas, MarinHealth urologists utilize the latest technology, called MRI/ultrasound guided fusion biopsy, to biopsy the prostate. This technology fuses the suspicious lesions found on the pre-biopsy MRI with images acquired in real-time ultrasound when the biopsy is performed. This ensures that all suspicious areas of the prostate will be sampled, thus maximizing the detection of aggressive prostate cancers. Treatment decisions will be made based on the stage and aggressiveness of the cancer as well as the man's age, personal preferences, and overall health. Options may include various combinations of surgery, radiation, hormone therapy, or chemotherapy.
An increasing number of prostate cancer programs, including the one at MarinHealth Medical Center, are offering men with slow-growing and lower-grade tumors the option of Active Surveillance. The man simply continues to live a normal life, with a check-in every four to six months and possible re-biopsy every 1-2 years to look for worrisome changes. More than 50 percent of MarinHealth's prostate cancer patients on active surveillance are still being watched five years later without the need for medical intervention.
If the patient ultimately undergoes treatment, continued cancer surveillance is performed with regular PSA testing to establish a new baseline, or nadir. In the event of a persistent rise in PSA level above a certain value, additional imaging to look for prostate cancer recurrence can be performed. Health centers with the most advanced testing options, like MarinHealth, also offer the option of an innovative PET (Positron Emission Tomography) scan called the Axumin scan. This powerful new tool is FDA-approved to diagnose recurrent prostate cancer, including lymph node and bone metastases.
The imaging study involves injecting a patient with Axumin, a synthetic amino acid with a radioactive component that can be imaged. Axumin is taken up preferentially by prostate tumor cells. The scan lights up wherever prostate cancer cells are present, revealing whether and where a tumor may have recurred or metastasized. The new Axumin scan offers three significant therapeutic advantages:
The scan performs well between PSA levels of 0.2 and 2.0 and extremely well when PSA levels are above 2. It can detect tiny lesions with PSA levels as low as 0.2.
The scan locates new tumor growth so that therapy can be targeted to that specific area of the body, limiting damage to healthy tissue.
The accuracy of the Axumin scan facilitates the use of Intensity Modulated Radiation Therapy (IMRT), allowing radiation oncologists to target a tumor with exquisite precision and avoid damaging surrounding tissues and organs.
The Axumin scan is just one of the advanced, FDA-approved imaging technologies MarinHealth offers our patients. While the Axumin scan is currently state-of-the-art, an even more sensitive new drug is currently in development. Prostate Specific Membrane Antigen, or PSMA, binds to a different protein that is overexpressed in prostate cancer. The hope is that this new test will allow us to detect even smaller tumors, earlier than ever before.
Dr. Ari Kane is a board certified radiologist and Director of MarinHealth MRI and PET Imaging.
Dr. R. James Yu is a board certified urologist at MarinHealth Urology | A UCSF Clinic and the Medical Director of Robotic & Genito-urinary Oncology Services at MarinHealth Medical Center.
---
Alone and Lonely: The Health Challenge of Senior Isolation
In 2017, the National Institute on Aging estimated that about 28% of older persons—9.3 million women and 4.5 million men—lived alone. For many of these seniors, loneliness is a fact of life. They may be widowed or childless, or their children may live too far away to visit very often. Their circle of friends may be dwindling, or they have transportation or mobility challenges that make it hard to leave home. All of these factors contribute to social isolation, which, according to Medicare Advantage, is one of the biggest threats—physically, mentally and emotionally—to the health of seniors. Especially at risk are seniors who have recently lost a spouse or partner, are separated from friends and family, or are struggling to adjust to retirement.
According to the MarinHealth 2019 Community Health Needs Assessment, social isolation is a serious and potentially growing problem for many Marin seniors. Marin is one of California's "oldest" counties. Persons over the age of 60 make up 28% of Marin's total population and that percentage is expected to go up to 33% by 2030.
The National Institute on Aging is funding studies to understand the physiological impact loneliness and isolation have on the body. One theory is that loneliness may impact the cells in the immune system that promote inflammation. Social isolation has been linked to high blood pressure, heart disease, arterial plaque buildup, obesity, and a weakened immune system. The impact on emotional and mental health includes anxiety, depression, cognitive decline, and Alzheimer's.
As worrisome as all this may sound, there's a silver lining: engaging in meaningful social activities can make a huge difference in a senior's general health, attitude, and even cognitive function. For many, that starts with family and friends, but there are other ways to create community:
Finding the right "tribe." This might mean finding a group of people who share the same interests and hobbies. Some Marin resources include:

Whistlestop, a local organization that provides a variety of programs and services to promote independence and well-being for seniors in Marin, including classes and several transportation services to expand mobility.
Marin Villages, an online community thatempowers older adults to be active, connected, and independent. Marin Villages organizes social events, and its volunteers provide transportation, non-medical in-home assistance, and referrals for services that require more time and expertise than their volunteers can provide.
AgeSong Marin is a discussion and support group where seniors can connect with others, and share their experiences or talk about what's really important at this stage of life in moderator-guided, small group discussions.
Volunteering. Working for a common cause gets folks out and about and provides them with a sense of purpose. In fact, an important study of people who lived to 90 and beyond found that civic engagement was a major factor in supporting longevity.

The County of Marin has put together a great list of opportunities and organizations right here in our community. Many community members over the age of 65 donate their time and talents to MarinHealth Medical Center. To learn more, click here.
Attending a house of worship can help seniors feel connected and inspired.
---
The Flu Vaccine: Your Best Shot at Fighting the Flu
Flu season is upon us once again, and it's time to get your shot! Each year, the flu vaccine prevents millions of illnesses and flu-related doctor visits—not to mention thousands of hospitalizations and even deaths. What's more, statistics show employees miss approximately 17 million workdays each year due to flu equating to an estimated $7 billion a year in sick days and lost productivity.
According to the Center for Disease Control, the flu vaccination:
Helps people with certain chronic conditions avoid serious medical events associated with the flu
Has been associated with lower rates of certain cardiac events in people with heart disease
Has been associated with reduced hospitalizations in people with diabetes and chronic lung disease
Helps keep pregnant women, new moms, and infants from being hospitalized with the flu
Helps protect infants from flu infection for several months after birth, when they are still too young to be vaccinated
Saves children's lives
Reduces the severity of the flu in people who get vaccinated but still get sick
Protects your family and other people around you
Babies, young children, older people, and people with suppressed immune systems or certain health conditions are especially at risk. However, even the strongest and healthiest among us can get seriously sick with the flu. So don't delay! Get your flu shot today.
For a calendar of free community clinics offering flu shots, click here.
You can also get your flu shot at one of these locations.