Oncology Patient Navigation
Your Guides Through Cancer Treatment at MarinHealth
A patient navigator acts as a "point person" to deliver personalized assistance throughout the treatment process. Navigators provide guidance, advocacy, education, support, and resources. Patients who partner with a navigator from diagnosis to recovery often feel calmer and more in control. Currently, patient navigators are available to serve individuals diagnosed with breast, gastrointestinal, and genitourinary (testicular and urologic) cancers.
Patient navigation has been proven to improve access to medical care, increase patient satisfaction, and enhance the relationship among the multidisciplinary healthcare team. Our patient navigators work with each patient from the point of diagnosis through all phases of their cancer care experience, as directed by the needs of the patient, their family, and their caregivers.
Meet Our Patient Navigators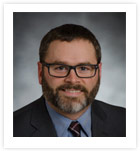 Brian French, MD, has more than 10 years of administrative experience in healthcare and public education. He specializes in genitourinary cancer navigation and is dedicated to serving any patient diagnosed with prostate, kidney, bladder, or testicular cancer. Brian coordinates the Androgen Deprivation Therapy (ADT) Wellness Program, a comprehensive health program for men undergoing hormone therapy for prostate cancer. He earned his Doctor of Medicine degree at the State University of New York at Buffalo School of Medicine and Biomedical Sciences. Fueled by a strong interest in complimentary and integrative approaches to health and healing, Brian completed his Patient Navigation Certification at Sonoma State University. Outside of professional life Brian enjoys relaxing at home with his wife and two rescue dogs and cheering for his favorite football team.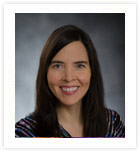 Alison Gause, MPH, CN-BA, has more than 10 years of experience working as a Patient Navigator in a variety of healthcare settings. She joined MarinHealth Medical Center in 2012 where she focuses on facilitating a seamless and supportive experience for individuals undergoing breast cancer treatment. She received her Masters in Public Health from University of Massachusetts-Amherst, with a focus in community health education and breast cancer survivorship. She is a certified Breast Patient Navigator through the National Consortium of Breast Centers' (NCBC). Alison has extensive experience developing health programs to improve the quality and delivery of patient care. In her spare time, she enjoys practicing yoga and actively volunteers for a number of nonprofit organizations in the community.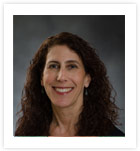 Jill Meyers, MSW, LCSW, focuses on providing timely, compassionate, and collaborative patient-centered navigation throughout her patients' cancer care. She understands the impact cancer can have on a patient's emotional, social, physical and financial well-being. Jill comes to MarinHealth from UCSF's Helen Diller Comprehensive Cancer Center where she practiced clinical social work, providing practical and emotional support to patients with a variety of cancer diagnoses. After receiving her Master's Degree in Clinical Social Work from Boston University, she worked for more than a decade at Massachusetts General Hospital and Brigham and Women's Hospital as a clinical social worker specializing in oncology and surgical traumas. Jill is thrilled to be part of our Integrative Wellness Center and is an integral member of the outpatient oncology teams. When not at work, Jill is an avid skier and enjoys mountain biking and hiking.