MarinHealth Medical Center Earns Recognition from The Joint Commission and American Heart Association for its Concerted Work in Stroke Care
MarinHealth announced today that MarinHealth Medical Center has been awarded The Joint Commission's Gold Seal of Approval® for Primary Stroke Center Accreditation by demonstrating continuous compliance with its performance standards. The Gold Seal is a symbol of quality that reflects a healthcare organization's commitment to providing safe and quality patient care.

MarinHealth underwent a rigorous, announced onsite review on May 28, 2021. During the visit, a Joint Commission reviewer evaluated compliance with Primary Stroke Center Accreditation standards spanning several areas includingprehospital care, emergency management, thrombolytic therapy, transfer process for advanced neurological interventions and current nursing Clinical Practice Guidelines. There was a focus on adherence to the latest AHA/ASA standards for stroke care, including current recommendations in medication management, active rehabilitation, case management and discharge planning, community outreach, and ongoing staff education.
The Joint Commission's standards are developed in consultation with healthcare experts and providers, measurement experts and patients. They are informed by scientific literature and expert consensus to help healthcare organizations measure, assess and improve performance. The surveyors also conducted onsite observations and interviews.
"As a private accreditor, The Joint Commission surveys healthcare organizations to protect the public by identifying deficiencies in care and working with those organizations to correct them as quickly and sustainably as possible," says Mark Pelletier, RN, MS, chief operating officer, Accreditation and Certification Operations, and chief nursing executive, The Joint Commission. "We commend MarinHealth Medical Center for its continuous quality improvement efforts in patient safety and quality of care."
In addition to the Joint Commission's Gold Seal of Approval, MarinHealth also achieved the 2021 Get with the Guidelines Stroke® Program Gold Plus with Target: Stroke Honor Roll Elite Plus, and Target: Type 2 Diabetes Honor Roll.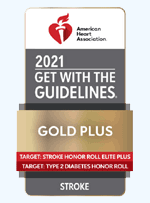 MarinHealth earned these Targets by meeting specific quality achievement measures for the diagnosis and treatment of stroke and diabetes patients at a set level for a designated period. These measures include evaluation of the proper use of medications and other stroke treatments aligned with the most up-to-date, evidence-based guidelines with the goal of speeding recovery and reducing death and disability for stroke patients.
"We are pleased to recognize MarinHealth Medical Center for their commitment to stroke and diabetes care," said Lee H. Schwamm, MD, national chairperson of the Quality Oversight Committee and Executive Vice Chair of Neurology, Director of Acute Stroke Services, Massachusetts General Hospital, Boston, Massachusetts. "Research has shown that hospitals adhering to clinical measures through the Get With The Guidelines quality improvement initiative can often see fewer readmissions and lower mortality rates."
According to the American Heart Association/American Stroke Association, stroke is the fifth leading cause of death and a leading cause of adult disability in the United States. On average, someone in the U.S. suffers a stroke every 40 seconds and nearly 795,000 people suffer a new or recurrent stroke each year.
"I am extremely proud of the MarinHealth Medical Center team for earning these top tier achievements for stroke and diabetes care," said David G. Klein, MD, and Chief Executive Officer, MarinHealth. "The Joint Commission and The American Heart Association/American Stroke Association are two of the many award and accreditation organizations that have recognized MarinHealth for the expert care we provide in the North Bay. Residents can rest assured knowing that MarinHealth follows nationally recognized guidelines for stroke and diabetes care to best meet each patient's needs."
###
About MarinHealth
MarinHealth encompasses respected local healthcare resources that have served the Marin County community since 1952. Marin County residents appreciate Marin's healthy lifestyle and transformative natural environment. In keeping with the values and needs of this unique community, MarinHealth is dedicated to treating the whole patient, mind, body, and spirit. MarinHealth Medical Center, the MarinHealth Medical Network, and their ancillary services all share the same patient-centric philosophy of care.
Media Contact
Jamie Maites
Vice President, Marketing & Communications
Office: 1-415-925-7424
Mobile: 1-240-506-8556
Email: jamie.maites@mymarinhealth.org