Health Connection - May 2020
Author: Ellen Doxey & Daniel Sadowski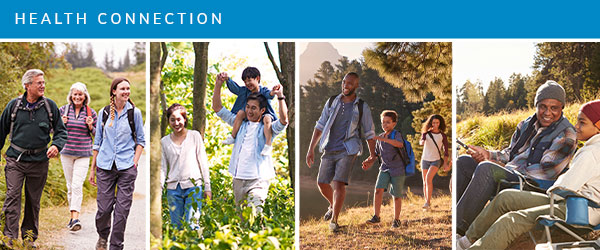 Your Healing Place is a Safe Place
Protecting yourself and your family will always be your top priority. As Marin County moves to Stage II of the shelter-in-place mandate and we slowly resume some activities, MarinHealth is committed to guarding against COVID-19 and ensuring your safety and wellbeing.
We have implemented enhanced precautions and protocols to help protect all of our patients, visitors, caregivers, staff, and the entire community. These safety measures, developed in collaboration with national and local healthcare authorities and our partners at UCSF Health, are in effect throughout our entire system, including the Medical Center, Medical Network Clinics, and all other locations. With these procedures in place, our facilities are safer than ever, and our teams are ready to provide you with the care you need for new or ongoing health issues – including potential COVID-19 symptoms.
New safety precautions and procedures at MarinHealth include:
Medical Center
Enhanced sanitation. All public areas and patient rooms are sanitized multiple times every day, and hand sanitizing stations are located throughout the hospital. In addition, high-tech robots are used for no-touch ultraviolet disinfection.
Facial masks. Employees and visitors must all wear masks, and patients are given masks when registering, during procedures, or when transitioning from the Emergency Department.
Employee screening. Employees wear personal protective equipment (PPE) that's appropriate for their role and function.
Visitor restrictions. For the time being, visitors are not allowed except in special circumstances, such as end of life or helping elderly or unstable patients.
Patient pre-screening. Patients complete a screening questionnaire, and may be tested for COVID-19 prior to scheduled appointments, procedures or surgeries.
Emergency Department (ED). All incoming ED patients are screened for COVID-19 upon arrival. Those with potential symptoms of COVID-19 are isolated from other patients in a negative pressure tent, and assessed immediately to determine appropriate care.
Additional Maternity Services Precautions
COVID-19 screening. Like all patients, moms-to-be are screened when they arrive for an appointment or are admitted for labor. If the mother is scheduled for a C-section or induction, she also undergoes COVID-19 testing up to 94 hours before the scheduled procedure.
Support person. One support person is allowed to accompany the mother-to-be, but other loved ones can join the support team virtually.
Support and educational classes. All pre- and post-birth support groups and education classes are being conducted virtually until further notice.
Clinics
Telehealth appointments. Routine and regularly scheduled appointments, as well as many new appointments, are being conducted by video via phone, tablet, or computer. If you have a telehealth appointment scheduled, the clinic will contact you to explain the process.
Potential COVID-19. Patients with COVID-19 symptoms will be directed to our Adult Acute Care Clinic.
In-clinic appointments. All clinics have enhanced sanitization in all public areas and patient rooms. Additional time is scheduled between appointments to eliminate crowding, allow for social distancing and provide for additional cleaning. All patients are pre-screenied for COVID-19 symptoms before appointments and again at registration. Employees are screened and temperatures are checked before each shift.
Additional precautions are in place, and additional protocols may be added as appropriate.
See the complete list of enhanced safety procedures.
At MarinHealth, our facilities are ready, and our entire team is prepared to provide the healing care you need. If you have delayed getting routine care or treatment for an illness or chronic condition during the coronavirus pandemic, now is the time to make an appointment and take control of your health.
---
Keeping the Special in Special Occasions
As each day blends into the next, sheltering in place can make it feel like time is standing still. Nonetheless, time marches on and marking family milestones like birthdays and graduations is more important than ever. We all long for the day when we can once again gather with our nearest and dearest, but in the meantime, we can get creative and find ways to celebrate.
Birthdays
For younger children and toddlers, cake and balloons will go a long way. Relatives can join in the family party through Zoom or other video apps. For older children who want to share their special day with friends, here are a few possibilities:
The family-friendly app Caribu offers in-app activities small children can enjoy remotely with their grandparents or a favorite friend.
Many professional children's entertainers are offering online services and providing interactive performances young children and their friends can enjoy remotely.
Everybody loves a parade. If you have a front yard, call the parents of your child's friends to set up a time for them to drive by your house and honk, wave and shout happy birthday to the birthday boy or girl. Help keep your child's friends busy by encouraging kids to make signs to hold up as they drive by. Meanwhile, you and your child can work on balloons and decorations for the front of your home.
Another fun thing to do on Zoom is playing freeze dance, with you or your child starting and stopping the music to see how fast everyone can freeze.
If your teen has a birthday coming up, you don't need a traditional karaoke machine to have a karaoke party. Use your favorite videoconferencing software along with the platform Watch2Gether, which enables users to stream videos simultaneously from different locations.
Help your teen plan a remote sleepover where they can communicate through a video call on Zoom, or Houseparty, which allows kids to play online games during their group chat. Download the Netflix Party extension so your teen can watch a movie with his or her friends. Synchronized video playing allows for a group chat as the movie plays.
If your young party animal has their heart set on an actual party with all the trimmings, consider waiting and celebrating their half-birthday. Just keep in mind that we can't yet predict how long it will be before social distancing is no longer necessary.
Graduation
Due to the pandemic, high schools and colleges have been postponing graduation ceremonies or holding them online. However, you can still find ways to celebrate your graduate. Many families are putting up homemade yard and window signs in honor of their graduating senior. You might also look into what the school is doing. Some institutions are setting up Instagram pages for the graduating class to post their memories. Others are creating and providing yard or window signs and encouraging graduates to upload pictures of themselves and their families posing beneath the sign. Still more schools have set up online platforms for graduating seniors to share athletic achievements, research projects, and creative efforts.
For a graduation memento that will be treasured for years to come, use a service such as Tribute to create a video montage. Friends and families can record their congratulations, which Tribute will edit into a keepsake video card for the guest of honor. And of course, you can always go old school and secretly put together a special scrapbook of your graduate's academic journey, going all the way back to pre-K. Just make sure to keep a box of tissues handy when you work on it.
---
Caring Gestures from a Supportive Community
While the team at MarinHealth focuses on taking care of our community, our community has been taking care of us. The support we have received during the COVID-19 crisis has been nothing short of amazing.
We are putting the creative homemade masks we have received to good use. While we can't use them inside our Medical Center, we have made them available for people to take as they exit. Many of our staff members have been taking the masks home to wear if they need to run errands.
Our staff has been showered with flowers, including colorful bouquets from Kate's Blossoms with notes of gratitude attached. These lovely arrangements help brighten our hospital amid the pandemic.
Finally, the food. From sweet treats to healthy lunches, our medical teams are staying well fed and energized, thanks to more than 8,000 donated meals from our community. Many thanks to Mollie Stone's Markets, Nothing Bundt Cake, Johnny Donuts, BOL Superfood Café, Amy's Kitchen, Emporio Rulli, Hint Water, Rethink Ice Cream, Feed the Frontlines, and many more.
---
Pandemic Habits Worth Keeping
From social distancing to facemasks in the grocery store, COVID-19 has forced us to make some pretty drastic changes to our lifestyle and our routine. We all look forward to the day when we can once again eat out, go to a concert, or have a neighbor over for coffee. But even once the guidelines are relaxed and eventually lifted, what are some of the new habits worth keeping for a healthier future?
Handwashing. COVID-19 is just one of the many microorganisms that can be transmitted through surfaces and hands. You could get salmonella from prepping chicken improperly in your own kitchen or catch the flu from holding on to a handrail at work. So, make like a medical professional and keep washing those hands. Shorter nails are also a good idea, especially right now when the COVID-19 virus is still out there. Keep a container of hand sanitizer handy in your car so you can clean your hands after gassing up the car.
Flu shots. Hopefully we'll have a COVID-19 vaccine someday. In the meantime, no matter how young and healthy you are, a flu shot is a good idea–especially during a pandemic. The flu weakens your resistance and could leave you more vulnerable to getting COVID-19.
Masks. Yes, they're slightly uncomfortable and they make your glasses fog, but masks are helping us stay safe. Someday soon, we won't need to wear a mask when we leave the house. However, if you fly a lot, you might want to wear a mask at the airport. Airports are like petri dishes for pathogens from all over the world. It's also worth noting that masks are useful to have on hand when you live in a fire zone.
Handbags. Your purse, briefcase, or computer bag can be a vector for all kinds of pathogens. Watch where you put that bag – public restroom floors are a terrible idea – and clean it regularly, inside and out. Right now, if you have to go to the store, leave the bag at home and put your credit or debit card in a pocket. (Try to pay using plastic rather than cash, which is passed from hand to hand.) After you pay for your groceries, you can sanitize your credit card along with your hands.
Primary care physicians (PCPs). During the COVID-19 pandemic, it has become clear we all needed to have a PCP in case symptoms arise, and to continue managing our health, or health issues. If you don't have a PCP it is important to find one now. MarinHealth Primary Care physicians can see you through Telehealth A pandemic is no time to start looking for a doctor. MarinHealth Primary Care physicians can see you through Telehealth, or in person if needed. If you need a PCP, call 1-888-MarinHC (1-888-627-4642) and we can help find a MarinHeath physician who's right for you. If you are concerned you may have COVID-19 symptoms, call the Adult Acute Care Clinic at 1-628-336-5205.
Be prepared. Once the shortages end, and they will, stock up on masks, rubber gloves, disinfecting wipes, hand sanitizer, and yes, paper towels and toilet paper–at least enough to get you through a couple of weeks.
Stay connected. Many of us have compensated for the isolation of sheltering in place by reaching out to others electronically or by phone. If you've been talking on the phone more instead of just texting, why not maintain that more personal form of communication? Perhaps you have been checking in on an elderly neighbor or even doing some errands for them. Staying helpful and in touch, even post-pandemic, is a great way to be a good neighbor and "pay it forward."