Health Connection - April 2020
Author: Ellen Doxey & Daniel Sadowski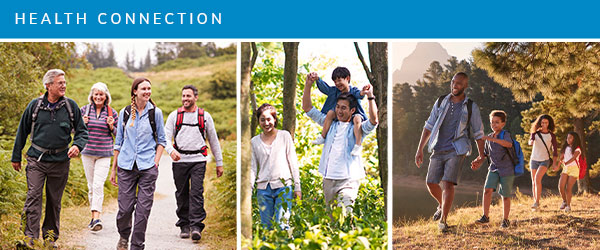 MarinHealth: A COVID-19 Crisis Resource for the Community
The North Bay is exceptionally health-conscious even in normal times, and the coronavirus crisis has taken this to the next level. The pandemic experience is new for all of us and it's only natural to worry about our health, and that of our loved ones.
At MarinHealth, we understand the fear and uncertainty the pandemic is causing. After all, we are on the front lines, testing people for coronavirus and treating those who already have the disease. Through our special alliance with UCSF Health, our experts are in regular communication with their team, sharing data and research and exchanging ideas and best practices.
Rest assured that MarinHealth is fully equipped to address your health concerns in a safe and efficient manner. All of our MarinHealth Medical Network clinics are now offering telehealth appointments; we've opened an Adult Acute Care Clinic in Novato that offers drive-through testing for COVID-19 (by referral only), and MarinHealth Medical Center's Emergency Department remains fully equipped to care for any emergent medical needs.
A Wide Variety of Symptoms
While there has been extensive media coverage of the advanced respiratory phase of COVID-19, initial symptoms of the illness vary greatly from one person to the next. The most common symptoms include:
New or worsening cough
Fever
Shortness of breath
Unexplained muscle aches
Other symptoms have been reported, such as:
Loss of the sense of smell and taste
Fatigue
Headache
Sore throat
Stomach Issues
Diarrhea
Conjunctivitis (pink eye)
Of course, many people with COVID-19 never develop symptoms at all, which is why the CDC now recommends we all wear masks when outside our homes to protect each other.
If you are experiencing symptoms you suspect may be related to COVID-19, call our hotline at 1-628-336-5205 to speak to someone who will assess your situation. Based on your symptoms, we will schedule the best option for you:
Telehealth appointment (video by phone/computer)
In-person appointment at our Adult Acute Care Clinic
Drive-through COVID-19 testing (with provider referral only)
If you are experiencing life-threatening symptoms, call 911 or go to the Emergency Department at MarinHealth Medical Center.
For current information, visit www.MyMarinHealth.org/COVID19.
---
Life as Unusual: Keeping up with the COVID-19 Crisis
Keep Calm and Carry On. The famous catchphrase was first introduced on a motivational poster issued by the British Government in preparation for World War II, but it certainly applies to our lives amid the coronavirus pandemic. We need to control our worry and keep living our lives. However, unlike the British on the eve of World War II, we also have to adhere to the CDC's COVID-19 recommendations, for our own sake and everyone else's.
California's early response to the coronavirus crisis has been an example for the entire country. Our local and state authorities were first in the nation to issue a shelter in place order and if we all pull together, we will eventually flatten that curve. But we must remain vigilant and continue to follow guidelines from local, state, and national authorities.
Safety recommendations from the CDC have evolved a bit as the pandemic progresses and scientists learn more about the COVID-19 virus. These are the latest recommendations, as of this writing:
Stay home. In accordance with Marin County's Shelter in Place Order, you should only leave your house for essential business, such as picking up food or prescriptions, working if you have been deemed an essential worker, or exercising in your own neighborhood.If you or someone you live with tests positive for COVID-19, your entire household will need to quarantine for two weeks. Call your doctor immediately if you find yourself in this situation.
Social distancing. Keep at least 6 feet away from other people any time you leave home. At first, scientists believed aerial transmission happened through coughing or sneezing but the latest research indicates that the virus may even spread through microscopic "aerosolized" droplets created by talking and breathing.
Handwashing. Wash your handsoften and thoroughly, with soap and warm water, for at least 20 seconds — especially when you have been in a public place or after coughing, sneezing, or blowing your nose. Keep your nails trimmed. If soap and water are not available, use a hand sanitizer that contains at least 60% alcohol.
Avoid touching your face. Studies have shown that people touch their faces 16 or more times an hour. If you have been exposed to coronavirus, you have viruses on your face, especially around your eyes, nose, and mouth. When you touch your face and then touch a surface, you could be contaminating that surface.
Wear a face mask if you have to go out in public for necessities. This is for your protection as well as those around you. Remember, COVID-19 may be spread by people who are not showing symptoms. Please don't use masks intended for healthcare workers as there is currently a national shortage. If you're interested in making your own mask, you can find a variety of instructions online. Wash the mask after every use, and wash your hands after taking off the mask.
Always cough or sneeze into a tissue, even at home. (In a pinch, cough or sneeze into the inside of your elbow). Throw the tissue in the trash and wash your hands.
Clean and disinfect frequently touched surfaces daily. This includes tables, doorknobs, light switches, countertops, handles, desks, phones, keyboards, toilets, faucets, and sinks.Most common EPA-registered household disinfectants will work. Or, you can make your own:

Bleach solution — 5 tablespoons (1/3 cup) bleach per gallon of water OR 4 teaspoons bleach per quart of water. Never mix household bleach with ammonia or any other cleanser.
Alcohol solution — Ensure the solution has at least 70% alcohol.

Have groceries delivered and be extra careful if you are in an elevated risk group. Your risk of developing a severe case of COVID-19 is increased if you:

Are 65 or older
Have asthma, COPD, or other chronic lung diseases
Have diabetes
Have a chronic heart, lung, liver, or kidney condition
Have a compromised immune system from cancer or an autoimmune disease such as lupus or rheumatoid arthritis
Like all hospitals nationwide, MarinHealth is taking special precautions to keep our staff, our patients, and the community at large as safe as possible. Learn more here.
---
Social Distancing: Good for Society, Hard on Individuals
- A woman with clinical depression worries that sheltering in place will make her depression worse.
- A mom wonders how to explain to her 3-year-old son why he can only wave to grandma and grandpa through the window.
- A pair of mismatched roommates are stuck sheltering in place together.
- An elderly man has to give up his main source of social contact—chess in the park—and now has no one to talk to.
Scenes like these are playing out all over California. By complying with our state's shelter in place order, we're working together to "flatten the curve" and get on the other side of the COVID-19 pandemic. But there's no denying social isolation is taking an emotional toll. We don't know whether to be afraid FOR our loved ones or afraid OF them because they might be infected.
Sheltering in place is good medicine to fight a pandemic, but it has two major side effects: loneliness and stress. Neither is good for you. Both have been shown to contribute to emotional problems such as depression, panic attacks, and anxiety. Long term, isolation could lead to such health problems as high blood pressure, heart disease, obesity, diabetes, and a weakened immune system.
It's hard to see past our "new normal" but this pandemic will pass and there are things we can do, right now, to reduce our stress, spend less time worrying, and stay connected to others:
Stay in touch. Call your friends and family. Call someone you haven't talked to in years. Use communication apps like WhatsApp, Skype, or Facetime for face-to-face interaction. If you enjoy writing, send a letter or email the folks you love.
Maintain your faith community. If you regularly attend religious services, look into whether your spiritual leader is offering them online. If not, you should be able to find an alternative. Many ministers, priests, rabbis and other religious leaders offer online services.
Keep up with the neighborhood. Social distancing does not have to be solitary confinement. Wave to the neighbor across the street. Talk to the neighbor on the other side of the fence. Enjoy happy hour together — with everyone participating from the safe distance of their porch or driveway. And make sure to check in with elderly neighbors to see if they need any help. These small daily connections help remind us that we're all in this together.
Do yard work and home improvement. This is your chance to get caught up on all those projects you've been putting off. If you're stuck at home, you might as well make that home as nice as possible. Plus, you'll enjoy a huge sense of accomplishment when you're done.
Have a "watch party." Instead of binge-watching a serial drama by yourself, consider hosting an online "watch party." Netflix and several other apps allow you and your friends to watch together and comment or discuss the show in real time.
Get back into an old hobby — or start a new one. It's only natural to worry about the future in this challenging time. Doing something that interests and focuses you can help keep you "in the moment." Take up an art project, sit down at the piano, practice your ballroom dancing — the possibilities are endless.
Cook something complicated. If you're sheltering with family, bond over a delicious meal. Bake a fancy cake, slow-cook a stew, or learn another culture's cooking techniques. This is the perfect time to branch out from the quick meals that usually dominate our busy lives.
Listen to, or play, music. Music benefits both mental and physical health. Studies have shown it can lower stress, reduce pain, help with depression, and improve sleep quality. Upbeat music is perfect for dancing around the house, which is a sure-fire way to improve your mood.
Take a walk. Just being outdoors can make things feel more normal, and you'll get a little exercise. Be sure to stay at least six feet away from neighbors and don't stray too far from home. As part of California's coronavirus safety measures, the use of playgrounds, dog parks, public picnic areas, and national, regional, and state parks is currently prohibited.
Limit news consumption. These days, it's all coronavirus, all the time. A steady diet of news can increase your stress and anxiety. Try to watch less news. Get your COVID-19 information from reputable sites like the Centers for Disease Control (CDC), World Health Organization (WHO), or for a more local take, the Marin County Health and Human Services website.