New Minimally Invasive Heart Valve Replacement Procedure Offers an Option to Open Heart Surgery
Author: Ramón A. Partida, MD, Interventional Cardiologist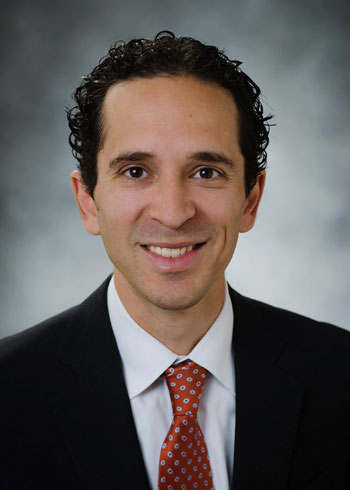 Valentine's Day and Heart Month — two good reasons during February to talk about the prevention, treatment and management of heart disease, the leading cause of death in the United States. One in every four deaths in this country is attributed to heart disease.
The most common type of cardiovascular disease is coronary artery disease, which can result in a heart attack. Other common types of cardiovascular problems include heart failure, stroke, abnormal heart rhythms, and valvular heart disease. Heart disease can also be congenital, which means it is present from birth.
Healthy heart valves are needed to maintain normal heart function. Valvular heart disease affects more than 5 million Americans a year, and occurs when one or several of the four heart valves do not open or close properly. This results in narrowing or leakiness of the valve which reduces the ability of the heart to efficiently pump blood through the body.
Valvular disease can occur for several reasons, but age-related factors are the most common in our community. Calcific aortic stenosis results from thickening and stiffening of the flaps of the main heart valve connecting the heart to the rest of the body, the aortic valve.
Some of the symptoms resulting from this reduced blood flow include chest pain or pressure, fainting, dizziness, shortness of breath, and decreased ability to exercise and perform usual activities. Your healthcare provider can often diagnose a heart murmur, and further evaluation can include a special ultrasound test of the heart called an echocardiogram.
Aortic stenosis affects more than two million people over age 75 in this country, and can represent a serious condition if symptoms develop. It is a progressive disease, and unfortunately, medications have not been helpful in treating this condition. When valve function is significantly affected the only proven effective treatment is valve replacement. Until a few years ago, open heart surgery represented the only option to replace the heart valves.
Currently, patients at intermediate or high risk for open heart surgery have another equally effective treatment alternative. The procedure is called transcatheter aortic valve replacement (TAVR). TAVR has been called transformative, and patients facing shortened life expectancies call it lifesaving.
Unlike open heart surgery, TAVR is a minimally invasive therapy. Similar to angioplasty, a procedure used to place a stent in a coronary artery, a new heart valve can be delivered through a catheter threaded inside a blood vessel, usually from the leg, to the heart. X-rays and ultrasound are used to locate precisely where to place the new valve. When the new valve is opened, it pushes aside the flaps of the original, malfunctioning valve, and effectively replaces it.
The TAVR procedure can take less than an hour. The only wound to the body is in the leg or groin where the catheter was introduced. After several hours in recovery, the patient is fully awake, and most patients are sitting up and beginning to walk around the room. The majority of patients are able to return home in one to two days. This short recovery time is in stark contrast to the time associated with recovering from open heart surgery.
The TAVR procedure was first introduced about ten years ago as a treatment alternative for patients, especially elderly patients, who were unable to undergo open heart surgery. The success of these first procedures led to the procedure becoming widely available for additional candidates. In 2018, approximately half of all aortic valve replacements in the United States have been performed using the TAVR procedure, and this number is expected to increase.
TAVR has led to a major change in our treatment of heart valve disease, leading to significant improvement in the quality of life and increased life expectancy.
About the Haynes Cardiovascular Institute
The Haynes Cardiovascular Institute at Marin General Hospital now includes a new Structural Heart Program. The term "structural heart disease" refers to congenital or acquired defects in the heart's valves, wall, or chambers. Minimally invasive treatments are available to replace or repair damaged heart valves, or to treat other heart defects such as patient foramen ovale (PFO) and atrial septal defect (ASD). In addition, atrial appendage closure is an alternative to blood thinners as a treatment for individuals with atrial fibrillation.