Marin General Hospital's Dr. Patrick Bennett Honored with Prestigious Physician Award by Marin Prostate Cancer Information and Support Group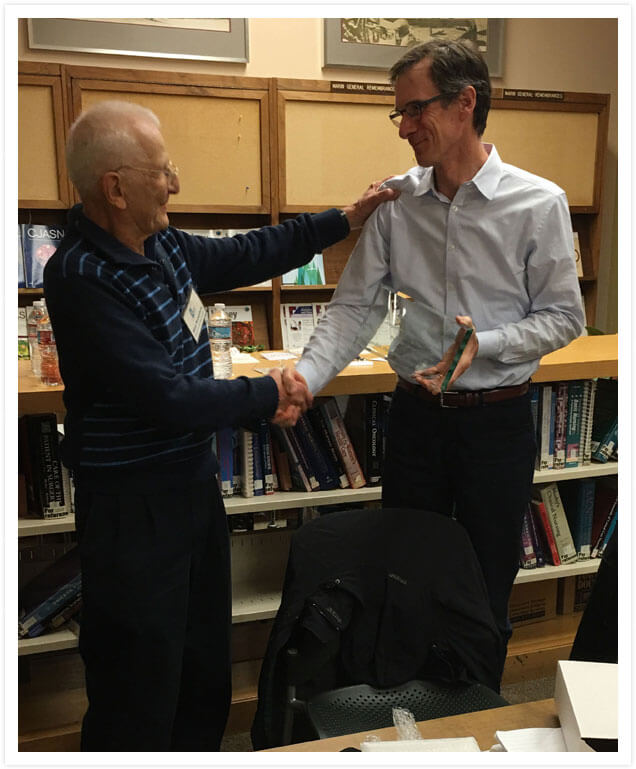 GREENBRAE, CA — Dr. Patrick Bennett, urologist at North Bay Urology and former chief of staff at Marin General Hospital, has been honored by the Marin Prostate Cancer Information and Support Group with the Physician Award, which recognizes outstanding work and commitment to serving the prostate cancer community.
The award was presented to Dr. Bennett by Marin Prostate Cancer Information and Support Group moderator Stan Rosenfeld on March 8 at the weekly meeting of the long-running support group, which has been held at Marin General Hospital every Tuesday since 1989.
"The diagnosis of prostate cancer can be an incredibly traumatic experience when not handled with the right medical expertise and bedside manner," Rosenfeld said. "Dr. Bennett has demonstrated the outstanding attributes of a highly skilled physician whose approach toward patients has earned him the reputation of someone that makes them feel comfortable and under proper care during an emotionally sensitive time in their lives."
Dr. Bennett joined the urology practice in 1996 and specializes in performing minimally-invasive operations, including surgeries using advanced technology such as the da Vinci robotic system and a broad range of endoscopic procedures for urologic cancer, female pelvic prolapse and incontinence, kidney stones and pediatric urology.
"This award is a tremendous honor and nod to the entire team at North Bay Urology, whose compassion and extraordinary skillsets enable patients to receive the support and care they need," Dr. Bennett said. "I am honored to receive this recognition and look forward to continuing to provide effective care to patients and support groups in Marin as well as those in surrounding communities."
In addition to his work at North Bay Urology, Dr. Bennett volunteers for Marin Community Clinics and Operation Access to provide specialty care for underserved residents once a month. In 2013, he was awarded the Volunteer of the Year award at the 20th annual Heart of Marin awards ceremony.
Dr. Bennett graduated Magna Cum Laude from Harvard University and received his medical degree from the University of California, San Francisco School of Medicine. Before returning to Marin, he completed two years of general surgery training and his urology residency at Massachusetts General Hospital.
A board-certified urologist, Dr. Bennett is a member of the American Urologic Association.