Dr. Leah Kelley, Breast Cancer Surgeon and "Constant Patient Advocate," to Receive Healing Professional Award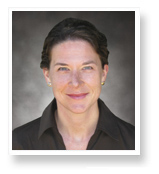 GREENBRAE, CA — Breast surgical oncologist Dr. Leah Kelley, Medical Director of the Breast Program at Marin General Hospital will be honored as the 2015 Healing Professional by Zero Breast Cancer at the organization's 16th annual Honor Thy Healer awards program. The event will be held May 7, 2015 at the Mill Valley Community Center.
Honor Thy Healer awards recognize "outstanding healers and leaders in our community who are advancing our understanding of breast cancer and the healing process." Dr. Kelley is being recognized for her dynamic leadership, a passion for excellent care and an enthusiasm to everything that she does for patients and for the Breast Program at Marin General Hospital.
Nominations for the award came from patients as well as her professional colleagues. Patients say she is "caring, sympathetic and enormously comforting," and has "an amazing connection with her patients." Another nomination says "Dr. Kelley took the extra time to spend as much time as I needed to understand my situation and my options. She made me feel as though I was her only patient and that my successful recovery was all that mattered to her."
Medical Director of the Marin General Hospital Breast Health Center and 2014 Honor Thy Healer honoree, Dr. Vida Campbell, says "Leah is a talented and gifted breast surgeon. Beyond her outstanding technical skills, she is a constant patient advocate and a leader on our breast cancer team. She holds herself and all of us to the highest standards. We are each better at what we do because of her."
"Dr. Kelley has been instrumental in getting the high-risk breast cancer assessment program up and running at Marin General Hospital," says colleague Dr. Jennifer Lucas, medical oncologist and hematologist at Marin Cancer Care. "The importance of her presence in the lives of those affected by breast cancer or those at high risk for breast cancer cannot be overemphasized."
"We are so fortunate to have an absolutely world-class breast cancer team here at the Marin Cancer Institute," Says Dr. Kelley. "Everyone from doctors and nurses to staff and supporters are dedicated to the best care for our patients and our community. Working in this environment makes it possible to focus on healing in every encounter I have."
Dr. Kelley received her medical degree from the University of Chicago, graduating with top honors. She went on to residency training in obstetrics and gynecologic surgery at the University of California, San Francisco. As a medical student, Dr. Kelley developed a lifelong passion for women's health and went on to complete advanced fellowship training in breast surgical oncology at the University of Southern California.The author of several peer-reviewed articles in the gynecologic and breast cancer literature, Dr. Kelley continues to be actively involved in research. As a clinician, she combines a holistic, women's health approach with precision surgical care. As a committed member of the Marin community, she is passionate about educating women, including those in the underserved communities of Marin, on breast cancer awareness and prevention. Her goal is to make her practice a vital part of the larger community and to build education and outreach into every aspect of care.
Dr. Kelley lives in Oakland with her partner and 15-month-old son. She is an avid runner, cyclist and outdoorswoman.
About Zero Breast Cancer
Zero Breast Cancer is a community-based organization dedicated to prevention and finding the causes of breast cancer through local participation in the scientific research process. They focus on identifying environmental factors and the role they play in breast cancer at all stages of life and across generations.