Dr. Gary Grossfeld Honored by Marin Prostate Cancer Information and Support Group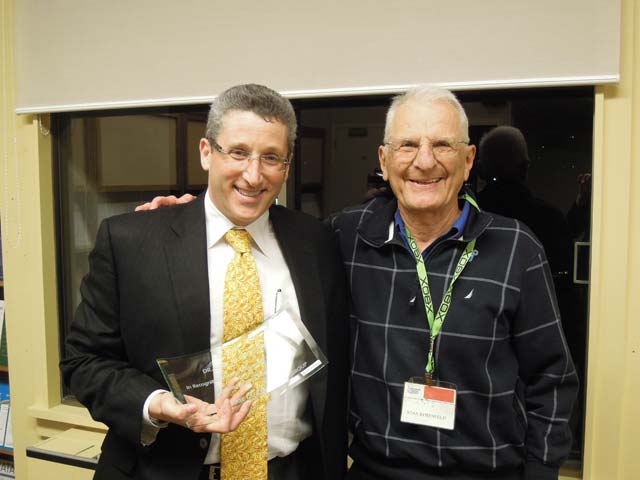 GREENBRAE, CA — Gary Grossfeld, MD, FACS, a urologist with Marin Specialty Care at Marin General Hospital, has been honored by the Marin Prostate Cancer Information and Support Group with the group's prestigious Physician Award, which recognizes "invaluable contributions to the prostate cancer community.

The award was presented to Dr. Grossfeld by moderator Stan Rosenfeld on February 26th at the group's regular Tuesday meeting. The support group has met at Marin General Hospital every week since 1989.
Mr. Rosenfeld, an outspoken advocate for prostate cancer research and patient services, has led Marin County Support Group for the past decade. In presenting the award to Dr. Grossfeld he said, "It goes without saying that he is an excellent surgeon. But in addition, no one is more responsive or takes more time answering questions for patients, clarifying their options, and being supportive—even if someone chooses not to have him perform their surgery. Here, we have the rare physician who combines excellent medical skills with superb 'bedside manner.'"
Dr. Grossfeld said, "I'm incredibly touched by this recognition. It's one thing to be honored by your medical peers, but getting this award confirms that I'm making a difference in the lives of the patients I serve."
Dr. Grossfeld joined the Marin Urology Medical Group (now part of Marin Specialty Care) in May 2003 and currently serves as medical director of the multidisciplinary genitourinary oncology program at Marin General Hospital. He is certified by the American Board of Urology and his specialty area of interest is urologic oncology. He completed his undergraduate studies at Cornell University, and was the top ranking student in his medical school class at the University of Southern California.
After two years of general surgery training and four years as a resident in urology at Los Angeles County-USC Medical Center, he completed a two-year sub-specialty fellowship in urologic oncology at UCSF, where he remained an assistant professor in urology. He has authored or co-authored nearly 90 peer-reviewed articles and 20 book chapters and was co-editor of the American Cancer Society book on prostate cancer.
Dr. Grossfeld and his partners offer a comprehensive program for the diagnosis, treatment and follow-up of genitourinary cancers.