Guided Imagery
Alternative Medicine Program
Guided imagery harnesses the power of imagination to promote healing. This visualization technique uses images, suggestions, storytelling, and metaphors to enhance relaxation and promote well-being. Patients focus on creating positive images to help heal their bodies and alleviate some of their symptoms. Guided imagery can help relieve physical and emotional pain, ease recovery from surgery, and even make it easier to sleep.
Research studies have demonstrated that guided imagery can have an impact on major physiological control systems of the body, including:
Respiration
Heart rate
Blood pressure
Metabolic rates in cells
Gastrointestinal motility and secretion
Sexual function
Immune responsiveness
Meet Our Guided Imagery Practitioner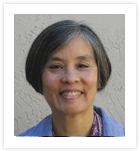 Corliss Chan, CMT, has been inspiring people to actively participate in their own healing and wellness for over 25 years. An engaged and compassionate listener, she has helped patients cope with life and health issues, including cancer, Lyme disease, heart health, diabetes, joint pain, anxiety, and depression. Today, she leads our Guided Imagery, Jin Shin Jyutsu®, Acupressure, and Meditation sessions.