Fitness Coaching
---
Personalized Fitness Plans Built Around Your Goals
We offer fitness coaching and classes designed to help individuals start and maintain a regular program of physical activity, particularly during or after treatment for a medical condition or hospitalization. The aim of our fitness program is to increase confidence in your physical capabilities and teach ways to incorporate exercise and movement into your daily routine.
We start with an initial consultation where our exercise physiologists will evaluate your exercise experience and fitness goals, and review your health history to design an individualized exercise plan. As part of follow-up sessions, we evaluate your overall progress and fine-tune your exercise plan to meet your individualized needs.
Though sessions benefit all shapes, sizes, and ages, they are especially beneficial for:
Mothers who have recently given birth and are looking to get back into an exercise routine
Patients going through cancer treatment—benefits range from reduction in recurrence rate to increases in survival and quality of life
Individuals seeking to lose weight or improve overall health
Anyone wishing to restore or increase strength, lean muscle mass, cardiorespiratory capacity, bone density, fitness, flexibility, and balance
Ask Your Doctor About Exercise
We recommend that individuals check with their physicians before starting any new exercise routine, particularly if they have not exercised in more than six months. If a person has recently been diagnosed with a life-altering illness, we may require a physician's release form prior to the first appointment.
Services and Fees
Initial Consultation (60 minutes): $100 per session
Follow-up Consultation (30 minutes): $65 per session
Meet Our Fitness Counselors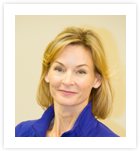 Ginny Erwin, MS, RDN, CES, CPT, graduated from the University of Illinois at Chicago with a bachelor's degree in Nutrition and Dietetics. She is a Registered Dietitian Nutritionist, a certified Cancer Exercise Specialist with the American College of Sports Medicine, a Certified Personal Trainer with the American Council on Exercise, and a Certified Specialist in Sports Nutrition.
Jenny Johnson, ASCM, CES, obtained her bachelor's degree in Exercise Science from Minnesota State University, Moorhead, in 2000. She is a Certified Exercise Physiologist and Certified Cancer Exercise Specialist with the American College of Sports Medicine. She also holds a Degriefing Practitioner Level II designation.