Strategic Alliance Between MarinHealth & UCSF Health — A Major Benefit to Our Community
Author: Lee Domanico, Chief Executive Officer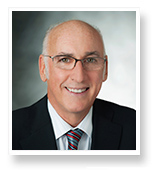 In September, MarinHealth and UCSF Health announced the formation of a strategic alliance that will expand the many already existing clinical collaborations we have within Marin County.
As a resident of Marin County, what does this mean to you?
A great deal. If you haven't yet needed the specialized services that UCSF already provides at our hospital and in our community, you may sometime in the future. The best part: the expertise of UCSF, with additional offerings coming in the future, will be there for you, most importantly close to home.
As a community hospital, MarinHealth has enjoyed a relationship with UCSF, an academic hospital, for many years. In 2010 when MarinHealth once again became a locally owned, independent hospital the need to formalize that relationship presented itself. Our goal was to be a viable, strong hospital, and yet remain independent, so we chose the path of strength through partnerships and collaborations rather than competition.
Many of our Marin residents were traveling over the bridge and into San Francisco to get specialty services and to access UCSF's expert care. Wouldn't it be better, for both MarinHealth and the residents of Marin County, to be able to access that specialty care and expertise close to home? The answer was, of course, and so in addition to the partnerships we pursued with our physicians and other community healthcare providers to enhance our ability to remain independent, we began our first talks with UCSF.
Since we began that collaboration more than seven years ago, we have been able to offer our community UCSF access to expertise in such areas as neonatal intensive care; neurosurgery; cardiac surgery; gynecological oncology; pediatric care including pediatric diabetes care. Services are available both in the hospital and at UCSF outpatient specialty care clinics, many close to the hospital on Eliseo Drive.
For example, you may have experienced the anxiety of a high risk pregnancy or giving birth to a premature infant. A UCSF neonatologist is onsite or available by phone 24/7 in our neonatal intensive care nursery (NICU); we are able to arrange for immediate transport to UCSF for patients needing further care.
Your child may have been diagnosed with Type I diabetes and you felt overwhelmed with how to handle the complexity of such a diagnosis. UCSF's Benioff Children's Hospital offers unique children's diabetes services and counseling at its renowned Madison Clinic; starting about two years ago, these same services are now available through a collaboration between Benioff and our community's own Braden Diabetes Center.
Someone in your family may have needed complex heart surgery or brain surgery. UCSF physicians are here onsite to either consult or perform surgery in these areas and to offer further care if needed at UCSF.
UCSF clinics here in Marin also offer preventive genomics, breast care, orthopedic surgery, and prenatal diagnostics.
The newest strategic alliance, announced this month, goes further than our previous collaborative efforts, and will continue to benefit you, your doctors and your local community hospital.
For example, with collaborative partners — MarinHealth and its physicians — located here in Marin County, UCSF is able to expand the reach of its specialized services to areas outside of its main service area in San Francisco. Those services could include tertiary care (inpatient care requiring specialized techniques not provided by our local physicians), even quaternary care (an advanced level of medicine, highly specialized and not widely accessible). Good for UCSF, and of course, good for Marin County.
We will also be expanding the professional working arrangements we already have in place with UCSF administration and physicians by collaborating on ways to further advance our quality improvement efforts and coordination of care.
In this new alliance, a higher level of integration than in previous agreements, MGH affiliated physicians will be aligned with UCSF Health, and UCSF Health will be able to nominate two members to the MGH Board, pending Marin Healthcare District approval.
Bottom line: With this new MarinHealth/UCSF Health strategic alliance, the North Bay community will not only continue to have rich access to a wide range of high quality, specialized medical services right here in Marin County, but can also look forward with confidence to even more offerings in the future.