Thanks To Our "Holiday Angels"
Author: Lee Domanico, Chief Executive Officer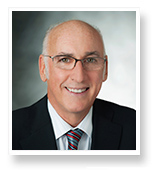 To the question "what are you doing for Thanksgiving," it seems no two answers are alike. I've talked to people who will be celebrating among relatives from near and far; and to people who prefer a small, intimate dinner. The answers are as varied as there are families, individuals, and circumstances that we find ourselves in at this time of year.
I know of about 300 individuals whose answers will be: "I'm spending Thanksgiving taking care of patients at MarinHealth," just as they may have done the day before or the day after. That's because patient care doesn't take a holiday. From trauma care in our ER, to patients needing special care in the ICU, to babies being born, or those patients who haven't recovered well enough yet to go home for the holidays — we will have a full hospital just as we do the other 364 days a year.
I'm thankful for the dedication our MarinHealth staff shows to our hospital and our patients every day of the year. I am especially thankful that on Thanksgiving, a day most everyone wants to spend with loved ones, we are able to provide not only patient care but the all-important human touch, including turkey dinner and pumpkin pie, thanks to all the "holiday angels" here that day.
I'm thankful also to our volunteers who have begun transforming the hospital into a welcoming, cheerful place for the holidays with decorations in the lobbies and in visitor areas throughout the hospital. And we will be collecting toys and food in barrels in the hospital for distribution to needy families in our community.
We have much to be thankful for, as always. A Happy Thanksgiving to everyone!