Time to Celebrate the Ongoing Dedication of Our Nurses and Hospital Staff Who Provide Health and Safety to Our Community
Author: Lee Domanico, Chief Executive Officer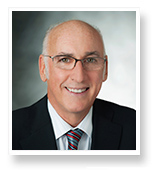 Each May we celebrate two weeks that have special meaning to all of us in the healthcare profession: National Hospital Week and National Nurses Week. This year they happen during the same week – May 6 to 12 – starting with National Nurses Day, commemorating the birthday of Florence Nightingale on May 6.
During this special week, the hospital will be hosting a BBQ for all employees to celebrate their contributions to MarinHealth, its patients, and the health and safety of the community. We will also be holding our Annual Service Awards event at which we honor our employees for their service and announce special awards in a number of areas including nursing and leadership.
With more than 1,600 employees representing a wide range of professions and areas of clinical specialization, whether it be on the front lines or behind the scenes, MarinHealth is one of the area's largest employers. Although they may have separate duties, our employees believe in and act on a common goal — staying committed to do what it takes to provide exceptional healthcare services in a compassionate and healing environment.
I'd like to illustrate this through the stories of a few of our care team members at MarinHealth.
As part of our highly regarded Operation Safety Program, each month, and annually, we name a Safety Hero for his or her work in protecting patients and meeting the highest safety standards. What's more, MarinHealth was recently one of only 750 hospitals nationwide to receive an "A" grade for patient safety from The Leapfrog Group. Click here to read more.
Tami Dinello, Clinical RN II, was given the award for making sure an infant in the Neonatal Intensive Care Unit (NICU) got a dose of medication at the appropriate volume and concentration. Tami used an Operation Safety tool (ARCC: ask a question, make a request, voice a concern, and use a chain of command) and the dose and concentration were recalculated and corrected. As a result, teams from across the hospital collaborated which led to improvements in our process and the delivery of care.
Each year, in preparation for our Service Awards Event, we have the difficult task of naming just one nurse out of many deserving candidates for our Jackie Jewell Excellence in Nursing Award. Our most recent nurse honoree is Bridget Peterson, Clinical RN III, in the emergency department. Bridget's peers described her as such when submitting her nomination:
"If there's one quality that epitomizes Bridget Peterson, it's heart. Whether she's saving lives in the Emergency Department (ED) or teaching cardiac arrest care to paramedics, she puts the same passion, energy, and commitment into everything she does."
When ED nurses began attending her CPR classes, Bridget knew it was time to bring that training to every department in our hospital. Currently, Bridget is working on building a Code Blue: The First 5 Minutes team to continue the hospital-wide cardiac arrest education program, which she created. A natural educator, she looks forward to continuing to "bridge the gap between MarinHealth and Emergency Medical Services" through her popular classes.
The same is true when selecting our employee of the month and employee of the year awardees. Passing the baton at this year's service award event is Tasha Irving, Radiological Technologist III, last year's Employee of the Year. Again, here are her peers' words.
"Ask anyone who works with Tasha, chances are you'll hear the word 'respect.' Physicians and staff all over the hospital respect Tasha for her diligence, dedication and proactivity. She is also well known for the respect she gives others. Whether carefully positioning a bad broken leg for imaging or helping a patient receive a troubling diagnosis, Tasha is always exceptionally considerate and caring."
I wish I was able to thank each individual working at MarinHealth for their service and dedication, this week. As an alternative, I'd like to take this opportunity to pay my respects to all the dedicated individuals – physicians, nurses, therapists, engineers, food service workers, volunteers, administrators and so many more – for what they continue to do each day for MarinHealth, its patients, and our community.