Patient Safety is in our DNA at MarinHealth
Author: Lee Domanico, Chief Executive Officer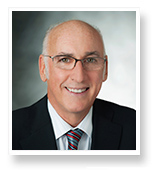 National Patient Safety Week, March 11 – 17, is the perfect time to talk about MarinHealth's number one priority: meeting the expectations of our patients who we are doing everything we can for, to ensure their safety during their time at our hospital.
According to Leapfrog, a national safety watchdog group, patient safety involves how hospitals and healthcare organizations protect their patients from errors, injuries, accidents and infections. As many as 440,000 people die every year from preventable errors in hospitals. Many hospitals are good at keeping their patients safe, some hospitals aren't. It's up to everyone to make sure that patient safety is the number one priority at every hospital across the United States, they add.
I am proud to say that patient safety IS our number one priority at MarinHealth. We are committed to reducing errors, infections, and accidents that can harm patients. Patient safety is firmly part of the culture at the hospital, due in large part to Operation Safety, a multi-faceted, organization-wide patient safety program which we established at the hospital many years ago.
We use the Operation Safety program to prioritize patient safety in all of our operations, to develop administrative methods for resolving any issues that arise, and to further embed safety in our culture by identifying best practices and acknowledging the champions of safety within our organization.
Components of the program include a robust safety training course for all employees; a high priority Safety Hot List with built-in accountability from the executive team; unit councils that identify and work on safety-related projects in their own areas; team rounding where physicians and nurses visit patients together to promote clear communication; promotion of safe handling practices, including assistive devices to safely and comfortably move patients.
In addition, we have made safety a priority in all of our operational and clinical administration activities. For example, we begin each day with hospital leadership "huddles," where we discuss and resolve safety and other patient care concerns. Even in administrative meetings, we put a discussion about any safety concern at the top of the agenda.
One of the components of our Operation Safety Program I especially enjoy is awarding the Safety Hero Award to an employee, physician, or team who go out of the way to detect the potential for error but most importantly – who speak up for safety, giving us invaluable input into how we can identify concerns and make our hospital as safe as possible. Because every patient's situation is unique and different, we depend on our staff to help us identify ways to ensure safety for all circumstances and medical needs.
Improving safety at MarinHealth involves all these activities and new ones, as well. Recent research has shown how fostering resiliency among healthcare workers has become an ever important factor in patient safety. The impact of caregiving (stress, fatigue, and burnout) have the potential to affect patient safety as well. The Joint Commission, in fact, has identified the potential for healthcare providers to become "second victims" of the adverse events their patients' experience. During Patient Safety Week this year, the Joint Commission is emphasizing the importance of instilling emotional support, open communication, and employee assistance into a hospital's culture of safety.
At MarinHealth, we too recognize the important role of caregivers in patient safety. Maintaining good health and staying well is what we must do to continue providing the safe, quality, compassionate care our community expects.
That's why we offer several caregiver-focused programs, including Schwartz Center Rounds®, during which care team members are invited to attend and talk about social and emotional issues that have come up during care providing; the HEART program which offers holistic support to patients, family members, and clinicians. And another committee promotes healing techniques such as meditation, touch, and imagery to reduce stress and foster the employee's well-being.
"Patient safety will continue to be our number one priority and top agenda item every minute of every day." A culture of safety at MarinHealth is no less than what our patients need and deserve from us.