Independence Fosters MarinHealth's Innovative Spirit
Author: Lee Domanico, Chief Executive Officer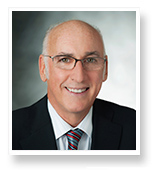 If you visit our website's "About Us" page, you'll find a wealth of information about who we are and what we stand for at MarinHealth. Of greatest importance, our Mission and Vision – that we strive to achieve throughout the organization in every way possible.
Mission: To provide exceptional healthcare services in a compassionate and healing environment.
Vision: To exceed each community member's highest expectations for quality healthcare.
Much has been said about our success over the past 7+ years as a locally owned, independent facility. The hospital is now on solid operational and financial ground. Independence has allowed us to build our own infrastructure, finance, IT, supply management, and executive operations. Independence also allows us more room to be innovative as we develop programs for the community, foster the expertise of our medical staff and ensure we are providing a safe, healing environment for our patients where our staff can do their best work. Let me share a few examples:
When we heard suggestions from three Marin mothers about how the emergency room experience could — and should — be made less "scary" for children, we not only listened but we incorporated their ideas and expanded how we deliver care to improve outcomes for our youngest patients and their families. Now, as the area's only "Ouchless ED" we have a dedicated waiting room, games, books, iPads that can refocus the attention of a fearful child, new ways to give medications, and special training for the care team to make MarinHealth's emergency room experience less traumatic for children.
Sujoya Dey, MD, Medical Director of Electrophysiology, is just one of the many pioneering physicians who have chosen to work at MarinHealth because of the opportunity it provides for innovative ideas and medical advances to thrive. We are one of the first hospitals in the Bay Area to use what is being called the world's smallest pacemaker. This advanced technology is inserted through an IV instead of an incision, it represents a major shift in cardiology and provides a greater quality of life for patients. Just recently, I was excited to see Dr. Dey, appearing on KRON TV talking about treating patients suffering from Afib in Marin with this device.
Our freedom to innovate has resulted in many program offerings unique to MarinHealth. Not only can Marin County residents take advantage of the hospital's wide range of conventional medicine services, but they can also choose from a number of integrative therapies that fit with our community's appreciation of a healthy lifestyle, as well as the beautiful and healing natural environment that is available here. I invite you to check out the many, and truly varied, complementary medicine programs available through the Center for Integrative Health & Wellness. There's something for everyone!
MarinHealth believes in treating the whole patient — mind, body, and spirit. There's no better example of that than the Ornish Lifestyle Medicine™ program, the first in Northern California, which our cardiovascular center now offers as an alternative to the traditional cardiac rehabilitation program. The Ornish program's goal is to reverse heart disease through a focus on diet, movement, stress reduction, and emotional support.
Last year we joined hundreds of hospitals across the country in adopting innovative changes in our culture and philosophy that will enhance both patient care and employee satisfaction. Relationship-Based Care (RBC) emphasizes care of self so that staff can develop and maintain resiliency; care of colleagues and the fostering of teamwork to foster mutual support, and care of patients and family which focuses on the patient's unique needs and includes the roles of both clinical and nonclinical caregivers to support that patient. RBC improves relationships across every level of an organization.
As a district hospital, MarinHealth was eligible to apply for a grant-giving us the privilege of participating in PRIME, the state's Medi-Cal 2020 initiative that will guide caregivers to improve quality of care, access, and efficiency of healthcare services for the more than 13 million Medi-Cal members in California. In Marin County itself, about 20% of the population is covered by Medi-Cal. For our part, we will be opening a Supportive Care Center in the spring to provide medical care for Medi-Cal patients with multiple chronic conditions.
Telemedicine is having a bigger and bigger role in patient care. At MarinHealth, we are already taking advantage of this technology in several ways. Stroke patients who are present in our emergency department can be evaluated immediately via remotely connecting to a panel of neurologists; cameras and two-way communication in the ICU takes the place of the critical care physician in off-hours or on weekends; a mobile medical robot connects physicians at UCSF Benioff to children and parents in the pediatric diabetes program; non-English speaking patients can get interpretation services at the bedside via a smart tablet. The future promises even more exciting uses of this technology. In our new hospital, for example, information about medications, care routines, discharge information and more can be shared with patients via two-way visual communication equipment at the bedside.
Independence and innovation are at the heart of what we do at MarinHealth. They give us the all-important ability to respond quickly and nimbly to changes – to evolve and constantly improve by being able to put the best ideas into practice. We are committed today and in the future, to deliver on our mission and our vision.