A Full Year and Lots of Accomplishments
Author: Lee Domanico, Chief Executive Officer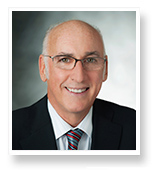 As MarinHealth's Chief Executive Officer, I may be biased, but in preparing this end-of-the-year wrap-up, it appears I have plenty of good cause to be enthusiastic.
Simply stated, 2018 was a very productive year for MarinHealth.
We successfully initiated a long-term strategic alliance with UCSF Health, which will greatly benefit our community in the short and long term. We introduced several new and expanded patient care programs, and we earned reaccreditation and awards from healthcare industry peers and watchdog groups overseeing patient safety and quality of care.
For example, we saw our Emergency Department nurses earn their professional society's Lantern Award for excellence in emergency nursing care — an award given to only 19 hospitals across the country. Also due to innovative care options for children and the staff's specialty training, we were designated as an Emergency Department Approved for Pediatric (EDAP) by the Marin County Emergency Medical Services Department. No more long trips to San Francisco for parents who need emergency care for their kids.
In the midst of this growth and expansion, we continued to uphold our exceptional quality and safety standards. HealthGrades, a nationally recognized quality review agency, named us among the top 10% of hospitals in the country for stroke and pulmonary care. Our trauma center was reaccredited for another three years as a Level 3 center. Our cardiac program received a new accreditation in echocardiography. For work in keeping C-Section rates low, the hospital made the California Health and Human Services (CHHS) honor roll for the second year. And, Leapfrog, a national watchdog group, gave us another "A" for patient safety this past spring.
And on a last, but certainly not least note, in a survey among readers of our local news publications, the Pacific Sun and the Marin Independent Journal, MarinHealth was named as Best Hospital.
This year we established several new patient care programs for the community, including a hip preservation program for hip problems unique to children, athletes, and young adults; the expansion of our cardiac program to include Dr. Ornish's Program for Reversing Heart Disease®; and a revolutionary new structural heart program to replace valves in patients with heart disease who are too frail to undergo open-heart surgery. We also continued to expand access to Behavioral Health specialists in physician offices throughout the community.
This particular December, we're not only celebrating a long list of accomplishments, but we're also looking forward to a year from now — December 2019 — when construction of our five-year hospital replacement project is scheduled to be finished. From the passage of Measure F in November 2013 to the official groundbreaking in July 2016, to the "topping off" ceremony in July 2017, it has been an exciting journey as we plan for the biggest day of all — when we admit our first patients in the spring or summer of 2020.
This first phase of MGH 2.0 will have a new modernized four-story, 260,000-square-foot hospital replacement building built to all current seismic safety standards. The new towers will have 114 private rooms, an expanded emergency department and six new operating/procedural suites. Special amenities and landscape features, such as rooftop gardens, balconies, and natural light in every patient room, will support a healing environment for patients and families. After the new hospital towers open in 2020, work will begin on a five-story, 100,000-square-foot ambulatory services building and a second parking structure.
Although next year will bring more projects and more deadlines, I am looking forward with great excitement to all that is coming up. Have a happy holiday season and a wonderful new year!