District Hospitals: Working in Partnership With Their Communities
Author: Lee Domanico, Chief Executive Officer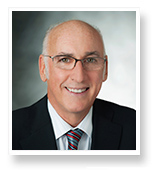 In the years after World War II, California was facing a severe shortage of hospital beds. Soldiers were coming home and starting families. The economy was good and communities began to grow. Hospitals in the state were generally located in urban areas; if you lived in a rural or undeveloped area, however, you may have had almost no access to basic hospital and healthcare services.
To help solve that problem, the California legislature in 1946 passed a law allowing the formation of healthcare districts which then, as public entities, could levy taxes to fund hospitals or other health services the community needed.
Voters in Marin County, then a largely rural area, approved the formation of the Marin Healthcare District and approved the bonds necessary to fund the construction of its own much-needed hospital. MarinHealth opened in 1952, operating as a district hospital under the ownership of Marin Healthcare District. Now, MarinHealth is one of 39 district hospitals operating in the state's 79 healthcare districts.
District hospitals share a common mission: to provide services that meet the specialized needs of the people living in the district — the mandate of the original healthcare district formation law.
To ensure that MarinHealth is doing that, we are guided by the findings of community health needs assessments conducted every three 3 years in collaboration with Healthy Marin Partnership, a consortium of other local hospitals, healthcare, and social services agencies, non-profit organizations, and community members. The document is available at www.maringeneral.org/community. I encourage you to read it to better understand Marin County's unique social and healthcare needs.
To meet the health needs of the current assessment, MarinHealth's focus and priority is access to healthcare. Ensuring access to healthcare that is comprehensive, affordable, and high quality is essential if we are to practice prevention, do early interventions, and treat our community's health conditions such as obesity, cancer, heart disease, asthma, oral health, mental health, substance abuse, and diabetes.
A few examples of how we, as a district hospital, are following our mission: we offer the county's only comprehensive cancer care program, only heart surgery program, and only inpatient mental health program. We are also the only designated trauma center in Marin as well as the county's only full-service labor and delivery hospital. Our Center for Integrated Health & Wellness program offers many community education classes and healing programs; we also host, sponsor, and facilitate a variety of free support groups for cancer. Plus, we have made it one of our priorities to establish relationships with academic hospitals which enables us to offer, right here in Marin County, a higher level of expertise to meet certain specialized health needs.
In addition, we're excited to be opening a new Supportive Care Center later this spring that will provide medical care for Medi-Cal patients with multiple chronic conditions. As a district hospital, we were eligible to apply for a grant to participate in PRIME, the state's Medi-Cal 2020 initiative to improve quality of care, access, and efficiency of healthcare services for the more than 13 million Medi-Cal members in California. In Marin County itself, about 20% of the population is covered by Medi-Cal.
Individuals, not just formal health assessments, have also guided programs. For example, a Marin mother encouraged us to include specialized pediatric care in our ER to help fearful young patients – now we are an "Ouchless ED". A resident, with the help and advocacy of his physician, who needed a diabetes management program – available at that time only in the city, encouraged the hospital to add this comprehensive type of program to its services. The result: the Braden Diabetes Center, opened in 2013!
In conjunction with the community health needs assessment, MarinHealth also directs charitable resources that benefit the community through access to care, education, prevention, and support programs – all of which support our goal to increase the number of individuals who have access to and receive appropriate healthcare services in Marin County.
Last but not least, there is an additional benefit of being a district hospital, especially for the community. Healthcare districts are the most local form of government with direct accountability to the community. Healthcare district board members are elected officials; meetings are open to the public and obey all state laws regarding openness and transparency.
I hope you've learned more about district hospitals, especially how MarinHealth – independent, locally owned and locally accountable, is proudly living up to that mission.