What Marin General Hospital is Doing for You Lately
Author: Lee Domanico, Chief Executive Officer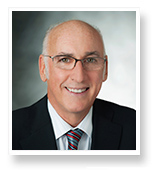 MarinHealth has been a familiar sight in our community for more than 65 years. Familiarity, while comfortable, can lead to taking something for granted, not always appreciating that it will be available whenever we need it.
After a number of unplanned events, our hospital became a familiar sight this summer to Sausalito resident, Leni Miller – and she certainly wasn't taking if for granted. In a few short weeks, Leni had experiences with our Emergency Department, Cath Lab and Surgery Center.
In a recent e-mail, Leni described how well the hospital's physicians and staff handled a neighbor's close call with pneumonia, her own broken leg from a fall, and her brother's death from a heart attack. Leni says "It was an emotionally draining summer for me personally and for my husband, but we had such a good experience at MarinHealth, it is worth sharing. I wanted to take a moment to tell you how grateful we are to have a hospital the quality of Marin General in our community."
Thank you, Leni. MarinHealth prides itself for being a top quality hospital that is available 24/7, 365 days a year not only for emergencies and traumas, but also to get people the help they need for both every day and more complicated diseases and injuries.
As you know, for the past seven years MarinHealth has been an independent hospital, and we don't want to be just a familiar landmark in the community. Our unique geographic location, surrounded by ocean, mountains, and the Golden Gate Bridge, means we have a very specific market who needs convenient access to the highest quality healthcare services locally. In addition, Marin is a very sophisticated community, close to some of the best academic medical centers in the country. That is why it is our vision, although located in a suburban community, to offer access to the medical expertise typically available only in large urban areas right here in Marin.
Making this a reality has required innovative thinking. We believe that the best healthcare is achieved through strategic partnerships and physician alignment. That's why we established professional contracts with physicians and physician groups as well as outpatient specialty and academic medical centers to ensure that our community has access to seamless, integrated healthcare. We formed a partnership with Philips, a global healthcare technology company, which gives MarinHealth the sophisticated equipment and IT expertise we may not have been able to have on our own. We've been actively recruiting physicians from outside the area to bring additional expertise and depth in areas such as robotic surgery, leading-edge cardiac care and orthopedics to Marin. And collaborations with UCSF Benioff Children's Hospital and UCSF Health have brought our community access to services such as high-risk neonatal and maternity care, specialty pediatric services, neurosurgery, cardiac care, gynecological surgery and more right here in Marin County.
We've also added services particular to the wellness needs and best health interests of the community, such as a full range of diabetes care at the Braden Diabetes Center, midwifery services through our Prima Medical Foundation, the Ornish Lifestyle program™, and the many classes and activities at the Center for Integrative Health & Wellness that respond to the emphasis our community has placed on health, mindfulness, and fitness.
We've also made improvements to our Emergency Department and Trauma Center, including initiating new "Ouchless ED" services for kids. Our nursing staff has put in the hard work over the past three years to secure "Baby-Friendly" designation for MarinHealth that promotes healthy infant feeding protocols for the health of our community's children.
Hospitals, no matter their ownership or affiliations, should be a benefit to their communities: always available in emergencies, offering invaluable resources at times of illness or injury, supporting healthy initiatives in the community. What makes a difference to me, as I am sure it does to all Marin residents, is that because of MarinHealth's independence, we are able to ensure that these benefits are 100% focused on our community.
Thank you to the community for the overwhelming support of our coming new earthquake-safe hospital. Your approval of general obligation bonds in 2013, as well as your ongoing philanthropy, is making it possible for MarinHealth to continue to enhance our services and ensure that we will always be the valuable healthcare resource our community needs and deserves.