Recent Fires Help Us Put the Thanksgiving Holiday in Perspective
Author: Lee Domanico, Chief Executive Officer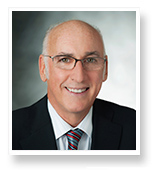 The holiday season is here along with all the traditional sentiments — thanks, appreciation of family and friends, and hope for good things to come in the new year. But this year may be more difficult for hundreds of our neighbors, as well as a number of our employees who live here in this special part of Northern California.
One of the worst natural disasters in California's history hit our region last month. Out of control fires raged for almost a week, taking more than 40 lives, destroying or disabling nearly 9,000 homes, and turning more than 180,000 acres in one of the most beautiful areas in the country into heartbreaking landscapes of blackened trees and scorched earth.
What do we give thanks for after such a calamity when so many people were left homeless, without a clear path forward? The fires moved quickly with flames that were so fierce they burned whole neighborhoods, even retail stores, and a hospital, leaving many people with no means of escape.
Many of us give thanks for our first responders. A fire and disaster such as this is what people in these jobs train for all the time, but when the real thing is upon you, it takes more than training. The firefighters and emergency personnel who worked around the clock to save lives exhibited a level of bravery and dedication that cannot be expressed adequately with mere thanks.
I personally am thankful for our Marin General Hospital family's inspiring response and the generosity shown to those directly affected by the fire, which included some our own employees. Through the quick work of our Human Resources team we were able to secure temporary housing for those employees displaced by the fire. Many employees even offered space in their own homes! In addition, although working almost at capacity ourselves, we established an Incident Command Center during the fire, ready to help our help neighboring hospitals if necessary.
Knowing how important it is to have food at hand when you're working long hours in a crisis situation, our Emergency Department staff agreed to use funds set aside for their Emergency Week celebration to instead supply pizzas for their fellow staff at Santa Rosa Memorial Hospital. A great way to help, thank, and care for our colleagues.
As difficult as it will be for some for a long time, recovery efforts have begun. Crews are working to clean up hazardous waste and toxic substances from the affected areas. Families are working with their insurance carriers and the government to make plans to rebuild. And wineries and restaurants across the region have re-opened and are making a plea for visitors to return.
Although it may be a cliché, whether you experience tragedy or celebration, time marches on and another Thanksgiving is upon us. This special day, although it may feel a little different this year, offers us a way to slow down, take stock of what is good in our lives and to appreciate the many blessings we've been given.
Wishing a Happy Thanksgiving to all.