Celebrating Two Special Weeks... And Our Birthday!
Author: Lee Domanico, Chief Executive Officer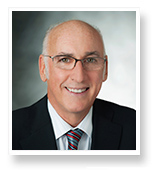 If you like celebrations, special weeks or days, May is your month. In addition to the most well-known — May Day, Mother's Day, Cinco de May — there's National Hamburger Month, Wildflower Week, and Lumpy Rug Day, among others.
At MarinHealth, we especially like May since we not only get to celebrate National Nurses Day (May 6) and Week (May 7 — 13) as well as National Hospital Week (May 7 — 13) but also MarinHealth's birthday (May 25).
This year, MarinHealth celebrates its 65th birthday. Although it's not one of the "big ones," a brief history is warranted: MarinHealth opened in 1952 and immediately began meeting the healthcare needs of a growing population in the area. Operated locally for the next 33 years, in 1985, seeking security and efficiencies in operations, the hospital entered into a lease agreement that in 10 years became Sutter Health Systems. A lot of complicated history later, Sutter Health and Marin Healthcare District come to an agreement to transfer control of the hospital back to the community. Since 2010, MarinHealth has been operating, very successfully I must add, as an independent, locally controlled hospital, committing ourselves and our resources 100% to the community. Celebrating birthdays, yes even hospital birthdays, is great, but this seven-year mark of our independence (2010 — 2017) is something I get really excited about!
MarinHealth is certainly not the hospital it was in 1952. Not foreseen 65 years ago, medical, information, and communications technologies have transformed patient care. Practices then seem somewhat quaint today: no computers, of course. Everything done on paper. IV bottles, syringes, bedpans made of glass or metal, not plastic, and not disposable. Needles were reused, sterilized by passing through a flame. No fax machines to the pharmacy. Drugs locked in cabinets, with only one or two persons having the keys. Nurses, doctors, patients thinking nothing about smoking at the nurses desk or even in bed. And this all seemed normal then!
One of my favorite anecdotes from nurses who lived those early days is that they were taught that they should stand when a doctor entered the room and give up their chairs. And just like in many other professions of that time, it was expected that nurses would get the doctors their coffee. What a difference. Today, nurses and doctors take great pride in their collegiality and go out of their way to work together as a team to enhance patient care and safety.
Along with celebrating MarinHealth's unique history this month, we also set aside some time during National Hospital Week to mark the importance of hospitals and the people who work there, and on National Nurses Day and National Nurses Week to celebrate the contributions of our nurses.
Did you know that for the 15th consecutive year, the American public has ranked nurses as the professionals with the highest honesty and ethical standards? According to a Gallup poll of December 2016, nurses ranked as the most trusted out of a wide spectrum of professions including medical doctors and police officers.
Wow! Not surprising! Nurses are at the heart of the care our patients receive. They provide exceptional and compassionate care at a time when these qualities are needed most. They have earned and deserve this acknowledgment.
If Gallup polling included all the various professions and occupations that make up a modern hospital's staff, I am confident they would rank as high.
A special kind of people, from those on the front line to those who work behind the scenes, make up a hospital staff. Although having separate duties, they believe in and act on a common goal — staying committed to do what it takes to provide the best possible experience for our patients.
So thanks to our community for supporting MarinHealth over these past 65 years, especially for your recent support of the bond measure that will enable us to move into another chapter in our history with a seismically safe, modern hospital – MGH 2.0.
And thanks during these special weeks to all the people who continue to invest their talents and time in this great hospital and its ongoing commitment to the community's good health.