Bringing Nurses Back to the Bedside
Author: Lee Domanico, Chief Executive Officer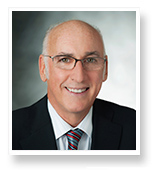 Year after year Marin General Hospital is recognized nationally in areas of clinical quality and patient safety. We provide exceptional outcomes to patients that come into our hospital, in a safe environment. Even so, we have begun a new journey to implement a major change in our operations this year.
Why we are doing this if the hospital is running so well you ask?
My answer could be about making gains in productivity and efficiency, improving our strategic positioning, or achieving a better bottom line — all answers a CEO would typically give. However this time, the answer is coming from the caregivers themselves – and we are listening.
Over the next few years, Marin General Hospital is going to work on a cultural transformation that focuses on building relationships and caring – caring not only for our patients but also for ourselves and our colleagues.
If you or a member of your family have ever been admitted to a hospital, the following daily routine may sound familiar. Someone wakes you early to take your vital signs. If you are feeling well enough, you are given a breakfast tray by a dietary assistant. Then your nurse comes in to talk for a few minutes before she or he is beeped to attend to something else. You may then be wheeled on a gurney to another location to have a test done. And eventually, the doctor comes in after office hours to explain the tests and update you on your condition. You receive high quality, safe care, often with the help of some wondrous technology, but you are often not 100% satisfied. 
Patterns and routines are an integral part of the hospital culture but they can also make patients feel like they are just a cog in the wheel that is going around them. Time is precious, and with caregivers being pulled in many directions, no one seems to have enough of it to be able to spend more than a few minutes at the bedside.
Patient-Centered Care is what the staff at Marin General Hospital, and at any hospital, believe in and have been trained to do. I truly believe that people are called into healthcare because they want to do good, and bring good, into other people's lives. Our patient care operations here in Marin have always reflected that basic philosophy, but what many nurses are now asking is how do we provide that care in the currently task-based environment we live in?
Ask any care team member why they feel this way and this pressure, and he or she will likely tell you about the evolution of computerized care, and the resulting reams of data the nurse must now monitor and manage.
While computers have for the most part ensured the safety and standardization of care leading to better outcomes, the caregiver is now often away from the bedside to a greater extent than in the past. In addition, advances in care have in many cases multiplied the number of steps needed to do the same job, resulting in more time focusing on tasks and less time focusing on their relationship with the patient.
Our goal at Marin General Hospital is to provide exceptional AND compassionate care. That's why we are investing the time and resources to build a culture that is highly regarded both internally and externally as having an engrained patient-centered care philosophy, called Relationship Based Care (RBC). RBC calls for the nurse's relationship with patient and family to be at the heart of the care the nurse provides. And it's not just about nurses – all of our staff are getting involved, because everyone makes up the patient's experience – from the Environmental Services Team who clean the room, to the painters, to the nutrition staff who prepare the meals. They all walk through our halls, and have a role in the patient's care.
RBC focuses on Care of Self, Care of Colleagues, and Care of Patients & Families. The idea is that when we take care of our self, and our colleagues, we bring our best to the patient. All aspects of patient care — how other caregivers regard their relationship to the patient and family, the interaction between members of the patient's team — will be organized around that philosophy.
In January, we began our journey. In order to properly introduce the philosophy and the infrastructure that a transformation like this requires, we held our first of many three-day staff retreats, called Re-Igniting the Spirit of Caring. I was heartened by the feedback I received:
"Thank you for . . . supporting nurses and the difference we make in our patients lives."
"Thank you for supporting this retreat as a journey for your staff and our community."
"This training is a gift. Thank you."
"RBC was a gift to your front line staff. Thank you."
"Thank you for supporting the innovation of the hospital through relationship-based care."
CEOs don't get many thank you notes, so positive feedback is always appreciated. I must give credit where it's due, however. The belief in putting patients at the center of the delivery of care comes from our staff and their extraordinary belief in the power of caring for the patient as a unique and whole human being. They are the gift, to the patients, families and the community we are privileged to serve. I look forward to working with them on this journey to exceptional patient care at Marin General Hospital.