Major 15-Year Strategic Partnership Seeing First Tangible Benefits
Author: Lee Domanico, Chief Executive Officer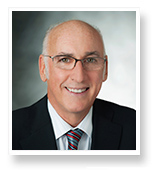 Just over a year ago, MarinHealth announced a 15-year, $90 million strategic partnership with a Royal Philips, a Netherlands-based healthcare technology company.
While these types of announcements are typically made with great fanfare, the news can soon fade from the public eye. Not because it isn't exciting or innovating but because is so multi-faceted and spread out over a long period of time.
I can assure you that at MarinHealth, this relationship certainly isn't fading from our eyes. It is a long term investment that we are committed to collaborating with Royal Philips on for a long time. The partnership allows us early and continual access to advanced medical technologies such as imaging systems, patient monitoring, telehealth and clinical informatics, and will help us to better manage the cost and complexity of acquiring those technologies. In addition, the partnership will help provide the technology, design and informatics for our new, patient-centric hospital (MGH 2.0) and ambulatory facilities.
We are a little over a year into the partnership and already are seeing the benefits of this investment.
New digital X-ray equipment at our Marin Outpatient Imaging Center offers a convenient option for our outpatients who no longer have to come into the hospital for X-ray procedures.
Digital X-ray equipment throughout the hospital now offers patients in the hospital faster and more accurate results.
Later this summer we will add a second CT scanner at the hospital. This will allow us to be even better prepared to receive stroke and trauma patients – when time matters most.
Physicians, staff, and patients having interventional procedures are all benefitting from recent upgrades to our catheterization "cath" lab equipment which has expanded treatment options, improved equipment reliability, and lowered radiation doses.
A new 3 Tesla magnet will join our current 1.5 Tesla magnet by the end of the year, greatly expanding the capacity and capability of this important diagnostic technology.
I'm also very excited about another example of how the partnership will benefit the community. A new state-of-the-art Breast Health Center, being called a "labor of love" between Marin General Hospital physicians and staff; the international design firm The Smith Group JJR; Marin Healthcare District; and Royal Philips is opening on June 19, 2017, at a beautiful location at Drake's Landing along Corte Madera Creek.
Thousands of Marin women already rely on us for their yearly screening mammograms. Those with an elevated risk of breast cancer get regular monitoring through our High Risk Breast Program. Our early detection rates are on par with those of the top academic medical centers.
With the opening of this new ultra-modern facility, the women of Marin will now have access to a comprehensive breast health program, centered in a beautiful new healing space. Public and waiting areas will be light, bright and incorporate views of the natural landscape along the waterfront, while imaging and minor procedure areas have spa-like and soothing interiors. The new Breast Health Center will rightfully reflect the "healing places" philosophy which is guiding the patient-centered design of MGH 2.0 — our eagerly awaited replacement hospital due to open in 2020.
If that were not enough, our partnership with Royal Philips will provide the women of Marin with access to the most advanced technologies in breast imaging. All our new state-of-the-art mammogram units will be capable of performing digital breast tomosynthesis (DBT), or 3D digital mammography. MarinHealth is the first and only healthcare provider in Marin to offer this breakthrough imaging technique.
An additional service in the new center is bone density testing, by which we can detect osteopenia and osteoporosis, conditions which put people at risk for bone fractures.
Appropriately, there will be lots of well-deserved fanfare with the opening of the Breast Health Center, just as there was with the announcement of the Royal Philips partnership. What remains after the initial excitement quiets down, however, is the long term benefit of both: expanded access in the community to lifesaving advanced medical care.
Let the fanfare begin!