Marin General Hospital's Success as an Independent Hospital — a Newsworthy Story
Author: Lee Domanico, Chief Executive Officer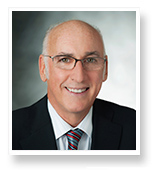 At a busy hospital like MarinHealth, the communications staff typically has their work cut out for them, answering questions from the media, setting up interviews with physicians and other experts, and reaching out to TV, radio, and print outlets to invite them to write about ongoing developments. From the amount of coverage MarinHealth has seen in the past six months —  more than 30 stories about everything from openings of new facilities, to birthing education, to keeping your child's skin safe this summer — I think it's apparent they're doing a great job!
Several of these stories appeared in national healthcare publications and featured MarinHealth's trend-bucking success in the seven years since we began operation as an independent, locally controlled hospital (links to the articles are below). A fourth story will be published soon in Modern Healthcare, the industry's leading source of healthcare, business and policy news.
Why the interest in this topic? One reason is the nature of the news itself. To keep up with the competition and retain readership, listeners and viewers, the media must remain fresh, timely and relevant. So when a journalist sees hospitals and health systems merging and making acquisitions, continuing the trend upward at a strong pace, a hospital like MarinHealth choosing to remain independent becomes an interesting and newsworthy topic. 
I encourage you to read the articles — they not only tell why independence works for us but also reflect how fortunate we are to live in this beautiful community. Here's a quick summary:
Since becoming independent, the hospital is now on solid operational and financial ground and has allowed us to build our own infrastructure, finance, IT, supply management and executive operations the way they work for us.
MarinHealth has known for years that we needed to rebuild to meet new seismic standards or close. This was likely not possible if we had remained part of a system.
In 2013, we went to our community for support, and they came through! A 68% approval rate from voters for Measure F, a $394 million GO bond, is helping in a major way the needed construction of a replacement patient tower. That plus the generous philanthropic support we've received truly speaks of the community's newfound confidence in the hospital.
After breaking ground last summer on the $535 million hospital replacement building, with all required seismic safety features, the MGH 2.0 project is proceeding on schedule. We held a traditional "topping off" ceremony (placement of the final steel beam) on July 19, 2017.
Our strategy to survive and be successful as an independent hospital includes collaborating and partnering with other entities, which we have done with Royal Phillips; UCSF and Stanford; the medical community; and third-party payers.
Independence gives us the freedom — and responsibility — to make best use of our resources and expand programs to meet the community's needs.
Independence has only motivated us further to meet and exceed national healthcare delivery benchmarks in clinical quality and safety.
We're able to put programs in place such as adding an Executive Director of Patient Experience and making changes to the caregiving culture throughout the hospital to result in a more satisfying hospital experience for patients and families.
Just three years from now, in the summer of 2020, we will welcome the first patient to our beautiful, modern earthquake-safe hospital. Over these seven years, we've learned about ourselves and the community; believed in independence as the best way, and kept our eye on the prize — making sure we do what it takes to give the Marin community access to the best of healthcare. 
Articles About Our Independence