Much to Look Forward to in 2017
Author: Lee Domanico, Chief Executive Officer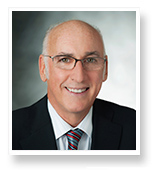 By this time, we've read all the 2016 end of the year wrap-ups — top news stories, best movies and books, best photography, celebrities we lost during the year, etc. Now it's time to look at the year ahead, something I especially like to do when it comes to the coming year at Marin General Hospital.
Hospital operations will continue to focus on the goals that don't change from year to year: achieving the highest levels of patient safety, clinical quality, and patient satisfaction. We begin the year having been named in late 2016 by the prestigious Leapfrog Group as one of the top 59 (!) general hospitals in the country, and with an "A" grade for safety, also from Leapfrog, making us one of the safest as well. Our trauma services were rated among the top 50 in the country for quality and outcomes. Healthgrades rated us among the top 10% of hospitals in the country for excellence in stroke care.
A special focus this year will be to reach equally high scores in patient satisfaction. We have already begun implementing a true patient centered care philosophy called Relationship Based Care into the culture throughout the hospital. In this approach to patient care, the definition of a caregiver is very broad. For example, we usually describe caregivers as those who take care of patients at the bedside. When we extend the definition to everyone who works at the hospital, the meaning of their work and purpose changes and becomes truly centered around the patient's experience. And when a patient's care is coordinated among all members of the patient's health care team, it leads not only to better outcomes, but also more satisfaction from patients and families about the care they've received.
In the bricks and mortar news department, I'm very excited about what we will all be able to see on our campus starting early this spring. That's when the steel structure of our new replacement hospital will start to go up, giving us all a tantalizing view of what this new modern campus will look like in just four years. Less visible but just as important is all the behind the scenes work on the new building that continues to go on day after day. Regarding our MGH 2.0 project, I'm always pleased to say it's on time and on budget!
In other 2017 initiatives, we will continue to work with the Marin Healthcare District, Prima Medical Foundation, and other local stakeholders to further develop our physician network and expand partnerships. We will be building on our current diabetes and palliative care programs and recruiting for several types of physicians including: a new colorectal surgeon, primary care physicians, and specialists in OB, psychiatry, neurology, and infectious disease.
In response to the recognized need for more access to outpatient mental health services in Marin, we are expanding our behavioral health offering to include the presence of psychiatrists within primary care and OB offices. And we are expanding the hospital-based intensive outpatient programs. Plans for 2017 also include expanding and growing our total joint surgery program, and developing standard pre and post op clinical pathways for patients and their families.
No year would be complete without an opening or two and some major patient care acquisitions. So look for the opening of a new Breast Health Center at Drake's Landing; a new Men's Health Center program; the addition of a new CT scanner for the hospital, and a 3.0 Tesla MRI at Marin Advance Imaging Center. Look also for Marin Healthcare District Medical Care Center services to expand north to Napa and Santa Rosa.
As I do every year, I have made a few New Years resolutions for myself. Sometimes I even succeed in keeping them! My overriding resolution for the new year, however, is to make sure that Marin General Hospital continues to be the kind of organization that has as its top goals to bring the best of care to our patients, to ensure employees enjoy meaningful and satisfying jobs, and to support, encourage and engage our many health care professionals as they continue their vital work for our community.
Here's to a successful, productive and yes, happy new year!