Look Around — Our Lives Are Filled With Good News
Author: Lee Domanico, Chief Executive Officer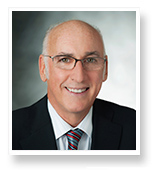 What a year it has been!
Dramatic shifts in the political landscape, natural disasters, including one very close to home, loss of lives to mass shootings and other violence, threats of terrorism, even war – every day it seems we wake up to another news cycle reporting unsettling and often scary events.
But we mustn't forget there is good news too – and the holiday season is often our opportunity to acknowledge the many positive things that have impacted our community's happiness and well-being. The local papers publish stories about community heroes and ways to support them. We get letters from families and friends, summing up the year's activities. There is positive news going on every day right under our noses. And to add to it, I'd like to share MarinHealth's annual holiday letter and use this opportunity to share good news from 2017 for the organization as well as the community.
First, I'm happy to report we're in good health! A few examples: Our Cancer Institute was one of only 16 cancer programs to earn the prestigious Outstanding Achievement Awards from the American College of Surgeons' Commission on Cancer (CoC). We became one of only 414 US hospitals and birth centers (out of more than 6,000) this year designated as Baby-Friendly for following healthy infant feeding protocol. We were once again named one of the Healthiest Employers in the Bay Area by the San Francisco Business Times. In addition, the hospital was accredited as a Chest Pain Center by the Society of Cardiovascular Patient Care, the accreditation arm of the American College of Cardiology.
Some financial good news as well: In preparation for the sale of $224 million of Marin Healthcare District's general obligation (GO) bonds, part of the total $394 million approved by voters in 2013, Fitch Rating, one of the "Big Three" credit ratings agencies (the other two are Moody's and Standard & Poor's), gave the bonds an 'AAA' security rating. The Fitch rating scale goes from AAA (the best quality companies, reliable and stable) to D (speculative bonds).
In addition, our Foundation's fundraising campaign for the new hospital was given a huge boost with the largest gifts we have ever received — one $10 million, the other a $21 million bequest. We could not be more thankful for this show of generosity and support.
A milestone worth noting this year — when the last and highest beam of the new hospital building (MGH 2.0) was put in place this past summer, we celebrated with a "topping off" ceremony, reminding us of how far we have come toward the completion of this exciting project.
The Marin Healthcare District, owner of MarinHealth, expanded vital services for the community with the opening of a new multispecialty clinic in Novato and a state-of-the-art Breast Health Center at Drake's Landing. And our cardiovascular program expanded with the introduction of the innovative Ornish Lifestyle Medicine™ program, the only program of its kind in Northern California, providing our community a more integrative approach to traditional cardiac rehabilitation.
I would be remiss not to share the challenges as well. Several of our healthcare team members lost their homes in the fires that struck our region this past October. Fortunately, we were able to secure temporary housing for them, some of which came through offers from their fellow employees. I am proud at the way our team responded not only to one another, and through clinical support needs but to the needs of our neighboring hospitals through the sharing of resources, including sending some most appreciated pizza to the ER staff in Santa Rosa!
Positive things happen every day at the hospital and I'm sure in your lives as well. We just need to look around. I encourage you to take a breather from the big picture this holiday season and reward yourself instead with a renewed appreciation of all the blessings that surround us right here at home.
From all of us at MarinHealth, we wish you and your families a happy and healthy holiday season.