Fostering a Center for Safe Healing
Author: Lee Domanico, Chief Executive Officer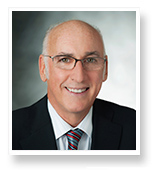 Every day there is a new article full of numbers reminding us of our own mortality. In May 2016, a study from the Johns Hopkins University School of Medicine revealed medical errors in hospitals are now the third-leading cause of death in the United States. This study showed medical errors in health facilities claim more lives than other leading dangers—including respiratory disease, which kills about 150,000 people each year. At Marin General Hospital, we are working hard to implement the necessary changes making sure this alarming trend doesn't interfere with the quality of care for our patients.
Cancer and heart disease have been at the top of the list as the leading causes of death for Americans, with much attention and research spent devoted to treatment and preventative measures for years. In the wake of the Johns Hopkins study, all eyes are looking to hospital systems to identify and put an end to medical errors being a threat to very people our facilities are meant to protect.
I believe miscommunication is at the root of this issue. On any given day, a patient may meet with 10+ people who are all involved with their care and all from different departments within a hospital. That care team must work together to make sure the delivery of patient care is at its finest. Without ongoing, open communication, errors can occur. So what do we do? My two cents is to get people to start talking.
Hospital personnel are an important part of the solution, as are the protocols they carry out from day to day. At Marin General Hospital, to boost our safety improvement techniques, we've implemented and encouraged a culture centered on safety. In 2014, we launched an initiative that we call Operation Safety. The program includes reliability training for all of our clinical and non-clinical employees, as well as physicians. To date we've trained nearly 2,000 people who have dedicated about 8,000 hours in training.
At the core of Operation Safety, is the priority for everyone to communicate—whether they are part of the clinical team, a hospital leader, or non-clinical staff. We have enhanced daily operations at the hospital by incorporating leadership coaching that encourages hospital leaders to check in regularly with the clinical team to encourage safety behaviors, such as hand hygiene protocol. We hold daily safety huddles among hospital leaders and staff where they can communicate safety concerns by sharing stories and thoughts directly with the team; and we offer multidisciplinary forums for caregivers to discuss patient cases.
In addition to establishing safety communication initiatives for hospital leaders, we host events called Schwartz Center Rounds. These sessions provide a safe space for caregivers to share their experiences and thoughts drawn from real-life patient cases. They allow members of the care team to focus on the humanistic aspect of medicine. Participants are encouraged to talk about social and emotional issues that surface when caring for patients and their families.
By encouraging these types of collaborative communication in our daily operations at Marin General Hospital, we've already seen an 80 percent decrease in the rate of serious safety events that occur. I believe we will continue to improve and ultimately eliminate all presentable harm, making Marin General Hospital one of the safest, most highly reliable organizations in the country.