Treating the Person, Not Just the Disease
Author: Lee Domanico, Chief Executive Officer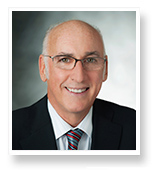 Every day, Dr. David Gullion, medical oncologist on MarinHealth's Medical Staff, chooses one of his growing collection of heart pins to wear as he sees patients in his office who are newly diagnosed or undergoing treatment for cancer. He says wearing the pin is a symbol of the caring and compassion he feels for his patients, but I'm happy to report that it doesn't stop there.
Dr. Gullion is guided in his practice by the idea that in order to really help and hopefully heal patients, you have to be fully present with them, not only listening to their stories but "generously listening," a term he borrows from wellness pioneer Rachel Naomi Remen, author of "Kitchen Table Wisdom."
Through generous listening, he says, he is able to incorporate the patient's story and unique perspectives into his medical knowledge and then formulate a plan to provide not only the best medical treatment but also the support the patient needs during this difficult time.
"It's important that we try to heal the patient in all aspects — physical, emotional, mental and spiritual," says Dr. Gullion. "Patients achieve better quality of life and perhaps better outcomes."
Dr. Gullion's fundamental yet powerful idea has led today to the establishment of the Center for Integrative Health & Wellness (CIHW) at MarinHealth. Founded as an outgrowth of Dr. Gullion's early integrative oncology program which he used in his practice here in Marin for many years, CIHW services are now offered to the community at large. That means that in addition to providing excellent clinical care for the treatment of many chronic and acute conditions, MarinHealth now offers a broad array of integrative healing modalities, such as nutrition counseling, massage, exercise/fitness coaching, acupuncture, expressive arts and music therapy, even the ancient art of Jin Shin Jyutsu®.
Here's what one of our patients said about her mindfulness meditation class at CIHW. "This class has been extremely helpful to my health challenges," she says. "It has truly saved my life and given me a place to go and relax and center myself, especially when I'm in stressful situations."
Through the Center for Integrative Health & Wellness, we continue to work on expanding this integrated model of care to include not only complementary healing programs but also self-care and preventative programs such as smoking cessation, fitness coaching, and weight management. I am happy to report that more and more of our doctors are now working alongside other health professionals to incorporate these wellness programs into their patients' care.
The Center for Integrative Health & Wellness is a not-for-profit department of MarinHealth. Services are available to patients and community members looking to optimize their health and well-being. For those who qualify, financial assistance is available to help cover the cost.
I applaud Dr. Gullion for his commitment to his patients and for his belief in treating the whole person as he helps his patients surmount the challenge of a cancer diagnosis. I am also grateful for his vision which today is MarinHealth's Center for Integrative Health & Wellness.
The Bay Area's late Robin Williams said it well in his role in the movie "Patch Adams," "You treat a disease, you win, you lose. You treat a person, I guarantee you, you'll win no matter what the outcome."