Going All-In With Health Care Technology
Author: Lee Domanico, Chief Executive Officer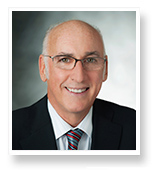 I read with interest recently that 50% of children, ages 12 to 18, feel they are addicted to their mobile devices. Parents, too, it seems. Twenty-seven percent say they have trouble unplugging, whether it's from work tasks, social media or staying connected with friends.
Dependence on mobile devices may or may not be an addiction. Certainly, there is wisdom in "unplugging" once in a while or trying to limit screen time for ourselves and our children.
In health care, however, we have no trouble with being addicted to technology. The lifesaving gains and advancements that have been made through our growing dependence and full-scale adoption of technology are unmatched in modern history. Computer-based technologies over the past 25 years have led to practices, treatments and methods that have saved millions of lives. Medical record keeping and collaboration between health care professionals are now more efficient and effective. Individuals now have access to the information they need to make informed decisions about their health care.
At MarinHealth, as a result of our investments year after year in health information technology and computer-based medical systems, technology has become an integral part of our system, permeating all areas of daily operations. We have invested in enhancements to our basic infrastructure of software and IT systems, allowing for more real time communication between caregivers and safer, more efficient collection of both medical and non-medical data.
Computer-based technology is at the heart of many of our treatment and surgical services too. Our newly acquired TrueBeam radiotherapy systems greatly enhance our cancer fighting capabilities by drastically reducing treatment time and improving accuracy to pinpoint a cancer within less than a millimeter. The daVinci Si Robotic Surgical System, allows surgeons to perform minimally invasive surgery which has been shown to positively impact patient outcomes, including lower infection rates, smaller incisions, and quicker recovery time.
In what is perhaps the most exciting and wide-ranging development in our application of technology to hospital operations is our partnership with Netherlands-based Royal Philips. Through this collaborative $30 million, 15 year contract, Philips will be working with the hospital to provide a wide-range of advanced, patient-centered medical technologies such as imaging systems, patient monitoring, telehealth and clinical informatics solutions. Philips will also partner with us in areas such as, clinical education, consulting and design services.
So I see no scenario in which we would "unplug" from technology, like the teens and parents who are addicted to their devices. There must be a balance, however. Even as we keep pace with emerging health care technology, we need to stay cognizant of our overriding goal — to provide the exceptional, safe care made possible through technology in a compassionate and healing environment. The best outcomes and the healthiest future for our community will come from the winning combination of technology, medical expertise and .hands on, nurturing care for our patients