Author: Lee Domanico, Chief Executive Officer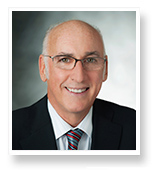 With its abundant natural beauty, amazing views of Mt. Tam and San Francisco Bay, and its unique mix of urban culture, small town charm and rural life, Marin County is truly a special place to live and work. And unless you feel the need to try a special restaurant in the City or see a major league sports team like the Warriors or Giants, it's likely that you'll find almost everything you want to see and do right here in this beautiful community.
I feel the same way about this special place which is why the team and I at Marin General Hospital are working hard to keep it that way for residents when it comes to health care as well. We want you to have the convenience and comfort of going to a hospital close to where you live, but also to be able to get the same high-quality care as you would if you "crossed the bridge" to one of our neighboring hospitals or academic centers.
How is a local community hospital able to offer this? How do we ensure that Marin County residents have the best of the best right here? These are the questions we ask ourselves in our strategic planning for the present as well as the future and where our advantage as an independent hospital comes in. Independence and local decision making are the keys, I believe, to provide the health care that best fits our particular community.
One of those decisions has been to bring the added expertise and expanded services we need here to our Marin General Hospital campus in Greenbrae through our collaborations with leading academic centers, including Stanford and UCSF.
Over the past 3 years we have collaborated with UCSF's Benioff's Children's Hospital, to ensure that our community has access to a number of specialty services for high-risk obstetrics like neonatology and perinatology, and expanded pediatric care. This means UCSF doctors are onsite at Marin General Hospital providing care so that families in Marin do not have to leave the county to take advantage of their level of academic expertise.
We have also established the Marin General Hospital Spine & Brain Institute, a collaboration between the hospital, Mt. Tam Spine Center and the UCSF Department of Neurosurgery. Through this arrangement, UCSF neurosurgeons are onsite at Marin General Hospital and available for emergencies 24/7.
Our newest collaboration will take place this month, July, with the opening of the unique Madison Clinic for Pediatric Diabetes at UCSF in our own Braden Diabetes Center. The Clinic is renowned for its approach to caring for children and young adults with diabetes. Its caregivers incorporate family dynamics, social structure and emotional as well as medical needs in each child's individualized treatment.
This is just a start. We look forward to continuing to add capability and expertise through the many innovative paths we have open to us, including collaboration. Making sure you have the best of both worlds — where you can get big city expertise and care without leaving this beautiful place we call home — is our goal. Just think of what you will save in time, gas and toll fees!