Tis the Season to Count Our Blessings
Author: Lee Domanico, Chief Executive Officer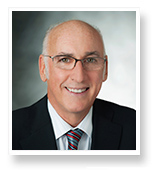 Here we are in the holiday season again! Stores and calendars are full, the bell ringers are out, and traffic is heavier than usual. Each of us marks the holiday in different ways, but I'm sure we all agree that this is a great time to reflect on and appreciate the warmth of friends, family, and colleagues.
Whether we're planning to celebrate with family and friends, work like so many do, or spend the days quietly, the season has always been a good time to take stock of all we have to be grateful for.
Top among the things we are thankful for at MarinHealth are the people who work here, volunteer here, and serve their patients here. Simply, we wouldn't be who we are without them. They not only contribute in vital ways to our record of success as a top performing hospital, but they are skillfully and compassionately fulfilling their roles as health care providers in service to the community through every season, holiday, day and night. My sincerest respect and thanks to all of them.
I also feel grateful as I look back on what the year has brought us here at MarinHealth, starting with the recognition we have earned for the exceptional care we provide. Healthgrades honored us with its 2017 Stroke Care Excellence Award, which places us among the top 10% of hospitals in the country for stroke care. And, earlier this month, we learned that MarinHealth was named one of the 59 top general hospitals in the country (!) by the distinguished Leapfrog group. This prestigious recognition was announced shortly after MarinHealth had earned an "A" grade for safety from The Leapfrog Group, meaning we are one of the safest hospitals in the country as well.
We also invested in new technologies that are changing the way we do things in health care. Like the unique Xenex Lightstrike sterilization robot (that our staff has named "R2Clean2"). R2Clean2 is used to clean various rooms in the hospital and allows us to kill more germs than we have ever been able to do before. In addition, we are the only hospital in the Bay Area to have two TrueBeam linear accelerators, the very latest in radiation treatment for cancer.
I'm also pleased to share that after many years in planning and development, our MGH 2.0 hospital replacement project got underway this summer with a festive groundbreaking ceremony that was attended by community leaders and other friends of the hospital. Opening in 2020, MGH 2.0 will be a modern, patient-focused, earthquake safe facility, incorporating design and features that reflect the healing environment of our beautiful Marin County.
We are fortunate to have so many reasons to be proud of what was accomplished during 2016, as I'm sure you do too. From all of us at MarinHealth, we wish you and your families a happy and healthy holiday season.